03.11.09
home | metro silicon valley index | movies | current reviews | film review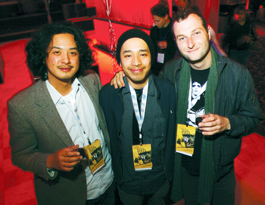 Photograph by Felipe Buitrago
WINNING WAYS: Director Mark Tran (center) and editor Jeremy Castillo (left) and cinematrographer Todd Banhazl soak up the accolades at Vivid.
The Lineup
Cinequest 2009 wraps, beginning the countdown to Cinequest 2010
By Richard von Busack
IT IS only 350 days or so until Cinequest 20, starting Feb. 24, 2010. In the meantime, the last festival just wrapped; 81,000 attendees were reported at this Top 10 destination film festival. The top honor went to Firaaq by Nandita Das; in some ways, this Maverick Spirit Award winner was Cinequest's answer to Slumdog Millionaire, focusing as it did on the religious strife between Hindus and Muslims.
The Audience Award for Best Feature was a tie between Mark Tran's All About Dad and Dror Zahavi's For My Father. The similar titles perhaps cast some doubt on whether the audience knew which film they were voting for, although the subject matters couldn't be more different: Tran's film is a Sunnyvale-set comedy of intergenerational conflict, while Zahavi's film is a story of the love between a suicide bomber and an Israeli woman. The audience voted San Jose's Dana Nachman and Don Hardy's Witch Hunt the best documentary in show. The jury award for Best First Feature went to The Friend by Micha Lewinsky.
The Special Jury Award for Narrative Feature went to Goran Markovic's The Tour. The epic-length Argentine drama Historias Extraordinarias by Mariano Llinas won the Global Visions Award. Former Fremont resident Tom Huang's Why Am I Doing This? won the New Vision Award. Beth Toni Kruvant's Heart of Stone and Mark Hopkins' Living in Emergency: Stories of Doctors Without Borders won the Best Documentary and Special Jury Award for Documentary Feature, respectively. Anja Marquardt, of Berlin and New York, won for Best Student Short, Thanksgiving. Frederica Bailey's script Ora won the first place in the screenplay competition, leading Feed the Monster by Rob Rex. Vancouver's Cody Yarborough won third place for his script The Juno Incident.
Speaking of Juno and incidents, after an onstage interview with Lew Hunter, Diablo Cody returned home without incident as a Maverick Spirit Award winner. She, Louis Gossett Jr. and Kevin Pollak both have fuller mantelpieces today.
As for the twitter competition announced, here are the top guns: Twitterer "Puppymeat" wins for his reliably short summation of the bill of fare at the fest: "JOHNNY MAD DOG: Awesomely brutal, brutally awesome—on crack." "KILLER POET: Fascinating doc of 2 people. Norman, a 2x murderer from MA. JJ a poet in Chicago. Same person, 40+ years apart."
Second place went to Alejandro Adams, whose avant-garde speculative fiction film Canary caused reliable polarization in the audience: "Honored to have CANARY in same programming section as Johnny Mad Dog but let's change category title from 'provocation' to 'assault.'"
Third place goes to Beekerstudios, whose summing up of the post-mumblecore Billy Was a Deaf Kid is excellent matchbookese: "Billy was a Deaf Kid: mundane life brought 2 life, day in the life of an adventure in a small town, riding a couch through a carwash."
Here's to all competitors: whether gnomic 140 word or less typists, or actual full-fledged independent filmmakers.
Click Here to Talk About Movies at Metro's New Blog
Send a letter to the editor about this story.