03.11.09
home | metro silicon valley index | movies | current reviews | film review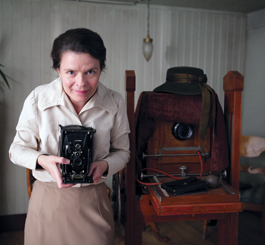 Photograph by Nille Leander
SAY CHEESE: Maria Heiskanen's Maria takes up photography in 'Everlasting Moments.'
Dark Rooms
In 'Everlasting Moments,' an early 20th-century Swedish woman learns the new art of photography
By Richard von Busack
THIS WORLD doesn't give women much to smile about, which means that a forceful, plain actress who isn't a smiler can make room for herself in the movies. Melissa Leo in Frozen River and Barbara Sarafian in Moscow, Belgium have company in the form of Maria Heiskanen. She plays the heroine of the Swedish import Everlasting Moments, a story of a woman's persistence. Maria has seven children and a brutish husband: everything needed for tragedy except the hopelessness. In 1907 in the seaside town of Malmo, Maria settles down with Sigfrid, called Siggi (Mikael Persbrandt), an ex-sailor who has the sailor's custom of drinking and womanizing. Before they married, Siggi and Maria went half and half on a lottery ticket and won a camera. After one of Siggi's many scrapes with the law, Maria goes in to sell the camera and meets the one man who will truly care for her. The camera-store owner, Pedersen (Jesper Christensen), is a Dane; like the Finnish Maria, he is a foreigner in Sweden. He tutors Maria in the new art of photography. Christensen played an intimidating villain in the Daniel Craig Bonds. A pair of spectacles softens his Medici profile, and his pet hound dog removes any lingering sense of menace. Maria begins photographing her neighbors as a hobby, and her art has a healing effect; for instance, photographing a dead child gives the mother a chance to keep the girl's image alive. World War I brings on shortages. Siggi's destructive binges and jealousy (unforgivable, since he has a barmaid girlfriend on the side) interfere further with Maria's photography.Director Jan Troell has a great gift with this period, as he showed in The Emigrants (1971) and The New Land (1972). The sepia-tone look mixed with hand-held camerawork isn't remarkably evocative, but it doesn't freeze the picture as a costume drama might. It took skill not to make this story a temperance melodrama. Persbrandt brings life to Siggi, a character who could have been a human club. Troell gives him the endearing habit of being good with horses; he's a wife beater, but he can't stand to see someone thrash a horse. Films in general are presumed to have a left-wing bias. What they actually have is a populist bias, and more often than not, that bias leans left. Everlasting Moments, however, makes its own conservatism apparent: small business is the only force that can pull this family out of poverty—that and a nongovernmental agency, the White Flower Temperance movement. Maria is too proud to accept official charity, even on the grounds that her husband is in jail. And her happiest day occurs when a newspaper prints her photo of a conference of Scandinavian royals. When Siggi gets into police trouble with a strike at the docks, it's considered just more foolishness—he's just a strong-backed, weak-minded type who got stirred up with talk of anarchy. The narration, by Maria's daughter, Maja, advances the action but flattens the characters' motives, the way narration usually does. The spirited Heiskanen is the reason to see this film. Her determination and refusal of self-pity are what will attract female viewers, and her performance is most authentically like the world of our great-grandmothers.

EVERLASTING MOMENTS (Unrated; 131 min.), directed by Jan Troell, written by Troell, Niklas Radström and Agneta Ulfsäter-Troell, photographed by Mischa Gavrjusjov and starring Maria Heiskanen, opens March 13 at Camera 3 in San Jose.
Click Here to Talk About Movies at Metro's New Blog
Send a letter to the editor about this story.