03.11.09
home | metro silicon valley index | columns | style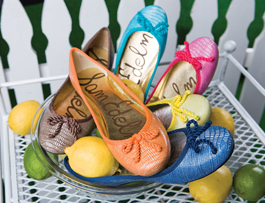 SPRING FEVER: Hue-heavy ballet flats take over Sam Edelman's most recent line.
Style
If the Shoes Fit ...
By Alexis Mendoza
AH, SHOES—the single greatest word in the English language. Flat ones, tall ones, leather ones, studded ones. This spring's shoe trends are all over the map, with a whole range of colors and accoutrements to thaw out winter tootsies.
The most striking looks this season start with a splash of color. Exotic blues, vibrant vermilion, emerald greens, sunshine yellows, hot pinks, cool turquoise, loud oranges and ever-popular black are all hot on the scene this spring.
But color isn't the only accent that is catching eyes. Fun details like bows, studs, tribal prints and bold straps have been heavily added to the shoe mix. Glam diva Beyoncé has been spotted numerous times sporting what might be spring's biggest trend: the stud.
Glam-rock couture this season is all about studs, straps and bolts. Take a hint from Mötley Crüe and add some studs. Bold straps are also hot on the scene, and can be worn with just about anything.
Gladiator sandals are a staple shoe for beaches, picnics and just about any activity you can do in shorts. Whether the straps stop at the ankle or go right up to the knee, the gladiator sandal has a hold of both flats and heels this spring.
Straps in general have been popping up on fancy feet everywhere, making their way onto detailed heels and intricate sandals. Whether they are braided, criss-crossed or laser cut, straps will turn up in abundance this season. Urban Outfitters has taken a hint from the runway, stocking its stores full of gladiator sandals and studded footwear to get their customers geared up for the season of sunshine.
The rule of thumb when stocking up on this season's hottest shoe trends can be summed up in one word: striking.
New-on-the-scene shoe designer Gwen Stefani has taken heed of this spring's themes and incorporated them into her newest line of L.A.M.B. footwear. This line has some of the most creative kicks on the market, all for surprisingly reasonable prices.
Want some economical knockout shoes? Don't forget to take a look at Sam Edelman's spring line. Color, color and more color is the only way to describe these deliciously hued heels and flats. The colorful snakeskin flats in this line are the perfect accent to shorts, jeans, beach dresses or even the cocktail hour.
For the absolute cheapest and cutest spring shoes, look no further than knock-off master Steve Madden.
Even international designers like Pour la Victoire are staking a claim in the spring shoe madness. Pour la Victoire combines bold shades with daring straps to make some of the most exquisite heels around.
Grab some fabulous studded bootlets or colorful streamlined pumps, slap on a pair of rocker distressed jeans, add a sassy black top and get ready for a night on the town, because spring is here.
Send a letter to the editor about this story.