03.11.09
home | metro silicon valley index | the arts | visual arts | review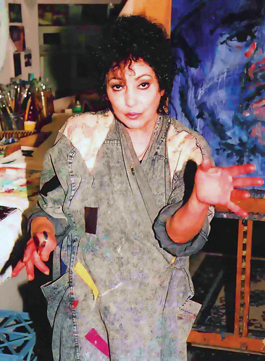 COLOR CODED: Bruni Sablan creates brightly colored paintings influenced by her love for jazz.
Bruni Gallery Turns 10
By Andrea Frainier
WITH BIG BUSINESSES falling one by one in the down economy, it's a pleasant surprise when the "little guy" manages to survive. Earlier this month, BRUNI Gallery did just that, celebrating its 10th year at its downtown Campbell location. BRUNI (pronounced brew-nee) Gallery features the work of its namesake, Bruni Sablan, a Brazilian-born artist who specializes in vibrant, colorful portraits of people who have touched and inspired her. "Ten is just a number," says Mark Gray, director of the gallery. "It just says that much more how amazing a person [Bruni] is, because to survive in the arts is hard."
The Campbell location is the second incarnation of the gallery. Its original location was in Old Town Los Gatos for 19 years, but as big franchises such as Banana Republic and the Gap moved in, Sablan realized it was time to move out. "It was impulse: I went to Campbell, but instinct told me something is good here," Sablan says.
For almost 29 years, Sablan has made a niche for herself in the Silicon Valley art scene, where she is famously known for her jazz art series, which depicts the jazz greats of the past and present. So far, Sablan has painted more than 1,300 portraits of jazz musicians, which puts her halfway to her goal. "I was introduced to jazz very early and became in love of it," she says.
Gray, who has worked with Sablan since 1985, explains that Bruni's love for jazz can be found in all of her art. Whether she's painting a portrait or an abstract painting, Sablan approaches each piece as if it were a jazz composition. She selects a subject, a person or an emotion, which she translates into the melody of a painting. Then she improvises, to capture the depth and true essence of the subject's soul.
Bruni is also inspired by her homeland, Brazil, and tries to embody the vivacious culture of the Latin America country in each of her paintings. "The colors and the nature itself in Brazil is different," she says. "Everything takes on a different personality." The explosion of color, the bright hues and the broad brushstrokes in her paintings work in harmony to create striking images of musical, spiritual and influential figures. By painting those who have inspired her, Sablan hopes her paintings will inspire others to learn about these meaningful figures.
"My one wish is when someone goes in [the gallery] and sees a painting that catches their eye, they go and find out, 'Why did Bruni paint it like that? What are they about?"
  BRUNI Gallery is open daily, 1:30–6pm. It's located at 394 E. Campbell Ave., Campbell (408.370.4700). The gallery will host an open house on Saturday, March 21.  
Send a letter to the editor about this story.