03.12.08
home | metro silicon valley index | silicon valley restaurants | review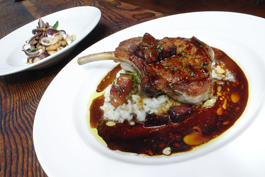 Photograph by Felipe Buitrago
SMOKE 'EM IF YOU GOT 'EM: The house-smoked Korabuta pork loin chop at Cetrella.
Cetrella Reset
Hits and misses in Half Moon Bay destination restaurant's redux
By Stett Holbrook
WHEN Cetrella debuted in Half Moon Bay six years ago, it marked the opening of the city's first destination restaurant. Housed on the site of the former Half Moon Bay Growers Association building where farmers once trucked in Brussels sprouts and artichokes, it became an instant hit and elevated the coastal city's culinary profile with its pairing of local ingredients and Mediterranean cooking served in an elegant, lively space.
Now the restaurant has entered its second act. After partners Dave Labuda and Paul Shenkman went their separate ways last year (Shenkman went on to open the excellent Sam's Chowder House nearby), Labuda revamped the restaurant in January in an effort to take it from a bistro to a fine dining establishment. Although it has been several years since I first visited Cetrella, the addition of new tables, floors, drapery and artwork didn't look that different to me. With its long open kitchen and counter, fireplace, earth-toned walls and exposed beam ceiling, the restaurant still exudes a rustic, cozy vibe.
The restaurant also brought a new chef on board. Robert Holt was once sous-chef at Cetrella and has come back as executive chef. Before Cetrella, he worked at San Francisco standout restaurants like Boulevard, Acquerello and the late, great Square One.
His hearty but refined cooking suits the restaurant well. When he's on, Holt turns out some truly wonderful food, especially his seafood dishes. Maine skate appears a couple of places on the menu. It's an uncommon fish to see on menus, even more so when it features tender morsels of cheek meat paired with smoked tomato sauce, picholine olives and fried capers ($15). The fish is cooked on a plancha, a Spanish-inspired griddle. The results are juicy, perfectly browned nuggets of meaty white fish that play off the pleasantly salty, rustic sauce.
I remember the sardines from years ago and I was pleased to see the underappreciated fish ($10) still on the menu. Four vinegar-cured fillets are paired with a little salad of thinly shaved fennel, micro arugula, toasted pistachios and a refreshing blood-orange vinaigrette. Sea bream ($30), also called dorade, is another less-than-common white-fleshed fish from the Mediterranean, and it's great here. The fish is roasted in the wood-fired oven and served atop crushed corona beans and a rugged brodo, a tomato and garlic–spiked fish broth.
Holt also has a way with vegetables. The rich and silken Nantes carrot soup ($9) was the best version of the soup I've ever had, less sweet than others and enhanced by the caramelized broccoli Romanesque, with currants and curry oil scattered on top. I also love the interplay of bitter and sweet in the mizuna, escarole and Maine sweet shrimp salad ($13). The judiciously applied Meyer lemon crème fraîche dressing and orange slices really brought this salad to life.
Other dishes didn't fare so well. I expected great things from the wood-fire-oven pizza on the brunch menu, but instead got a crisp cracker bread. The toppings—sausage, fennel, onions and sunny-side-up egg—were good, but the crust made me wonder if the kitchen had forgotten to add yeast to the dough. The spaghetti rusticella with aged balsamic vinegar ($16), also on the brunch menu, was another dud. The sweet and sour flavor of the vinegar dominated the dish, crowding out any contributions from the broccoli Romanesque, golden raisins and pine nuts. It was too oily to boot.
Adding to my disappointing brunch was the wood-fire-baked eggs ($14). It was described as duck confit, rabbit confit, corona beans, olives and feta served with an oven-baked egg, but the result was an oily, salty mess.
Desserts are a mixed bag. The vanilla-laced carnaroli rice pudding ($6.50) was rich and creamy; the warm Scharffen Berger chocolate cake ($8) offered everything you're looking for in over-the-top chocolate indulgence. But the cannoli ($8) and galactaburico (a semolina flour pastry filled with custard, $8) were unmemorable.
While the food sometimes falters, service is even weaker. During both my visits the restaurant was nowhere near full, but we had to sit through long gaps waiting for our food, for our plates to be cleared and for our check. Once, the wrong drink was served, while another time we got the wrong salad. Later, when everyone was finishing their entrees, one person was still waiting for hers. Some servers were friendly and warm, but one manager type who happened by our table was aloof and bored. For a restaurant with fine dining aspirations, service has a long way to go.
While I'd like to see more wines available by the glass, Cetrella's eclectic, 400-item wine list invites exploration. There's a full bar, too.
With its good looks, great wine list and often great food, Cetrella is still one of Half Moon Bay's best. Better service and a more focused kitchen could make it even better.
---
Cetrella
Address: 845 Main St., Half Moon Bay
Phone: 650.726.4090
Hours: 5:30–9:30pm Sun–Thu, 5:30–10pm Fri–Sat and Sun 10:30am–2:30pm
Cuisine: Mediterranean
Price Range: $18–$35
Send a letter to the editor about this story.