03.12.08
home | metro silicon valley index | music & nightlife | band review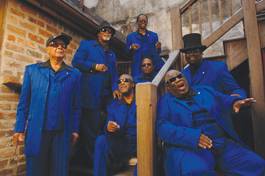 NOT AFRAID OF THE BLUES: Despite their love of many popular artists and styles, the Blind Boys of Alabama have stayed true to gospel.
There But For theGrace Of God
The Blind Boys of Alabama wouldn't sell out their music—and success found them anyway
By Steve Palopoli
THE Blind Boys of Alabama will tell you that God works in mysterious ways. They would know.
Founded in 1939—original member Jimmy Carter is still the group's leader—the Blind Boys didn't even come up with their name. They were the Happyland Jubilee Singers until a music promoter in the '40s decided to capitalize on the novelty of an all-blind ensemble, rechristening them with their now famous moniker.
"That was a real genius move," says Eric "Ricky" McKinnie, who joined the Blind Boys in the '70s and is now tour manager in addition to his drummer and vocal duties. "No one had thought to do anything like that before. I thank God for that."
This is not the usual way a musician invokes the name of God in reference to a music promoter's attempt at exploitation—such utterances are usually unprintable. But the Blind Boys, who perform in Palo Alto Saturday as part of the Stanford Lively Arts Series, turned that emphasis on their physical limitation on its head, using it as a way to inspire.
"The Blind Boys show the world that a disability does not have to be a handicap. God is using the Blind Boys as a symbol," says McKinnie.
He picked a winner. While gospel has overall been marginalized as a genre in the mainstream, the Blind Boys have somehow transcended that. Part of it is their sheer talent. Part of it is their reputation for high-energy shows in which they literally get down with the audience, raising all kinds of, uh, heck. With their cover of Tom Waits' "Down in the Hole" being used as the theme for HBO's cult hit The Wire, they've reached another level of visibility entirely.
Throughout their career, they have embraced audiences of any and all beliefs and backgrounds. Every time the mainstream accepted them, they have accepted it right back tenfold.
Yet they've refused to compromise their dedication to inspirational music, turning down an R&B contract on the same day that fellow gospel singer Sam Cooke signed his. It raises the question: with their professed love of blues and so many pop artists, why have they stayed so faithful to their genre, when bigger success beckoned down more secular paths?
They see it as nothing less than a calling. "Our number one priority is to let people know that gospel is good news," says McKinnie.
And really, could there be better musical missionaries? Religion is a subject many people won't go near in public, let alone in front of large audiences in a country all-too-well-known for being oversensitive about everything. And yet, the light touch of the Blind Boys does not allow for such awkwardness.
"If you want to be biblical about it, God says, 'If I be lifted up, I draw all men,'" says McKinnie. Meaning the Blind Boys don't worry about promoting their faith; they just do their thing with the belief that their faith will promote itself.
Anyone who thinks their dedication to gospel music has kept them from taking chances need only listen to their new album, Down in New Orleans, in which they mix their sound with Dixieland giants like the Preservation Hall Jazz Band and the Hot 8 Brass Band. They are not afraid of staying contemporary, and have partnered with Peter Gabriel, Lou Reed, Bonnie Raitt, Ben Harper and many others. They even had Waits on their Christmas record.
"That was cool," says McKinnie.
McKinnie, who lost his sight in 1975 to glaucoma, was originally asked to fly with the Blind Boys to a gig in Australia three decades ago. He had scored a gold record in the early '70s with his band Gospel Keynotes (for the song "Jesus You've Been Good to Me"), but he jumped at the chance to travel the world with them.
"It was just meant to be," he says.
Having lasted almost 70 years, and achieved the success that they have while winning four Grammys, what's left for the Blind Boys to do? Maybe a movie about the group's story? Nothing seems impossible to McKinnie anymore.
"For a gospel group," he says, "we have crossed barriers that no one has ever done."
THE BLIND BOYS OF ALABAMA perform on Saturday (March 15) at 8pm at Stanford Memorial Auditorium, Stanford University campus. Tickets are $12-$48. (650.725.ARTS)
Send a letter to the editor about this story.