03.12.08
home | metro silicon valley index | the arts | stage | preview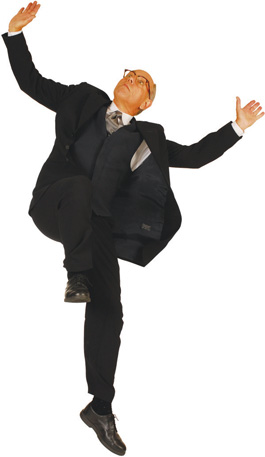 Eureka! Veteran character actor Joe Spano is R. Buckminster Fuller in 'The History (and Mystery) of the Universe.'
Idea Guy
Joe Spano brings eccentric thinker to life in one-man play
By Steve Hahn
R. BUCKMINSTER FULLER had more energy than a coked-up roadrunner. The controversial late-20th-century architect was constantly cranking out a new car or building design, wore three watches set to different time zones during his constant travels around the world and would spend hours scribbling down his thoughts on everything from the physics of the universe to the nature of humanity. Oh, and he also gave lectures that frequently exceeded 12 hours.
One such lecture forms the basis of The History (and Mystery) of the Universe, a new play about the eccentric architect-philosopher produced by San Francisco's Z Space Studio and the Rubicon Theatre Company. The one-man production stars Joe Spano (forever remembered as Lt. Goldblume on Hill Street Blues) and comes to UC–Santa Cruz for one performance on March 14. Don't worry, you won't be squirming in your seat for 12 hours; though playwright D.W. Jacobs borrowed much of the original language, he significantly condensed the lecture.
Despite Fuller's boundless energy, many of his ideas never really got off the ground. Some, however, were very successful. Most famously, Fuller designed the geodesic dome, a revolutionary design that led to buildings such as the Epcot Center at Disney World in Florida. Fuller also helped lay the foundations of the environmental movement with his constant calls for humans to "do more with less" and his announcement in the mid-'70s that humanity had reached a point in history when alternative energy and agricultural technologies could sustain all of humanity, making poverty and war obsolete.
R. BUCKMINSTER FULLER: THE HISTORY (AND MYSTERY) OF LIFE plays as part of the UC–Santa Cruz Arts & Lecture series on Friday (March 14) at 8pm at the UCSC Mainstage Theatre on campus. Tickets are $20–$40. ([email protected] or 831.459.2159)
Send a letter to the editor about this story.