03.12.08
home | metro silicon valley index | the arts | stage | review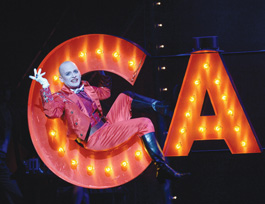 SIGN OF THE TIMES: Nick Garrison makes a memorable entrance in 'Cabaret.'
Sally Forth
American Music Theatre delivers 'Cabaret' with a historical shudder
By Marianne Messina
WHEN A BOLD, yellow-lighted "Cabaret" marquee drops from the flies with MC (Nick Garrison) nestled in its "C," this American Musical Theatre of San Jose's version of Cabaret declares its production values: high impact, everything to the purpose. The beaded corsetry, sparkling brassieres and gartered kicking legs (Thomas G. Marquez, costume design) adhere to a striking color theme of red, black and occasional white (the colors of the Nazi flag, incidentally). Lighting and set designer Tom Sturge uses concentrated colors powerfully. The setting is pre–World War II Berlin, and the deep purple nightclub lighting is dotted with dark-red lights glowing like votive candles in a cathedral.
Liza Minnelli stole the 1972 film as the English exemplar of free love, "Perfectly Marvelous" cabaret singer Sally Bowles (played here by Tari Kelly). But in this musical, Sally's tale—girl invites herself to move in with struggling American author Cliff (Louis Hobson), finds herself pregnant and tries to hold on to her "career"—is overshadowed by the shy courtship of the elderly couple. Widowed rooming-house landlady Fraulein Schneider (Suzy Hunt, her voice ranging from gritty to croony) and her admiring tenant, fruit-stand owner Herr Schultz (Allen Fitzpatrick), capture full center-stage as Schneider preens over Schultz's gift pineapple (accompanied by some Hawaiian slide guitar from the orchestra) in "It Couldn't Please Me More."
Around this couple, timidly daring to love, everyone else seems just a little more sinister, especially against the backdrop of a rising Nazi party. Bowles' denials of political reality tip from self-serving to pernicious, while the MC seems complicit. Neither androgynous, nor campy, Garrison's bald, hirsute and manly MC in eye black looks more like a metal-core singer. As the Nazi mythology begins to dominate, the MC's red-satin tailcoat embossed with glittering chevrons or his diapered baby look for the 1930 New Year's party give way to the lederhosen and bow tie of "Das Volk" (in spring yellows and greens). Scintillating with significance, this strong, dark production gives us an MC who is not so much drag queen self-expressing as a chameleon (he blends in with the chorus line at one point) pandering.
When Bowles sings "Cabaret," the sexual glamour of her so-revealing, cut-front black dress clamors—in the face of what has just occurred and what we now know about Sally—with falsehood, compromise and Cabaret's thematic subtext of ethical prostitution. Even the history is rendered in clever, symbolic ways. The MC sings in a bathtub overflowing with inflationary deutschmarks. The beautiful "Tomorrow Belongs to Me," sung by a barbershop quintet of men in skivvies, is graced by a balletic male dancer (Nazi brutalities, as historian George Mosse put it, were "masked by a certain feeling for beauty and form") who strikes classical poses typical of Third Reich propagandist sculptures.
Sturge's odd, angular stage framing, the rounded, red cabaret tables and the towering Edwardian arched windows provide a stark visual contrast to the right angles in machined, Albert Speer–like iterations that end Act 1 as Nazi flags descend on the cabaret like the hammer of an Aryan god. This artful, evocative vision marks everything that follows with a shudder.

CABARET, an American Musical Theatre of San Jose production, plays Tuesday–Friday at 8pm, Saturday at 2 and 8pm and Sunday at 1 and 6:30pm at the San Jose Center for the Performing Arts, 255 Almaden Blvd., San Jose. Tickets are $14.75-$74. (888.455.SHOW)
Send a letter to the editor about this story.