March 14-20, 2007
home | metro silicon valley index | the arts | stage | review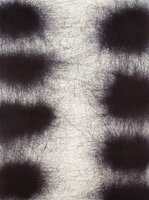 Art Projects International, New York
Light and dark: Il Lee's 'Untitled 978 Q' conjures up nodes of blackness with a ballpoint pen.
Whirls Enough And Time
Il Lee does wonders with a humble ballpoint pen
By Michael S. Gant
ARTIST Il Lee doesn't need sable-hair brushes and hand-ground pigments. The Korean-born artist, who has lived and worked in New York since 1977, chose another path in 1981, when he began to draw exclusively with the humble ballpoint pen—and not just any ballpoint, but the cheapest Papermate black-ink pen, which he could purchase in bulk. Evincing great gestural assurance, Lee draws tangled skeins of ballpoint lines on large sheets of heavy-weight paper and, lately, primed canvas.
He creates areas of pure inky blackness so intense and saturated that they look as if they must have been brushed on. But everything Lee does comes from repetition; even the darkest passages result from a near-endless cross-hatching maneuvers. According to the catalog that accompanies the exhibit at the San Jose Museum of Art (with essays by critic Edward Leffingwell and SJMA senior curator JoAnne Northrup), Lee draws so vociferously that his hand heats up the ink in his pens until it actually starts to flow rather than just roll out.
From pulsing black squares and rectangles, Lee introduces various sprouting lines that shoot out into white space, like flares from a black hole. Sometimes, as in Untitled 286 (all of the works are numbered, rather than burdened with titles that might be suggestive but misleading), the thin black lines loop in a kind of calligraphic exuberance, imparting a wiry nimbus to the central form. Sometimes, using tape to fashion hard edges, Lee plays with the contrast between uniformity and frizziness—Untitled 182 looks like a mathematically precise walkway with periodic brushy outcroppings, or possibly a fuzz-tufted caterpillar captured in midsegment.
In Untitled 101, two force fields seem to hold each other in an embrace—like those lines of iron particles that array themselves around the poles of magnets. The shape on the left is composed of long vertical strokes; the basic movement is horizontal on the right; the clash is energetically resolved in a tight central grid of intersecting lines. In its alternating of black nodes and white protuberances extending from a central trunk, Untitled 978 Q resembles an X-ray of a kinked spine. From a distance, Lee's lines appear uniform, but close up, you can see slight variations in thickness as a curve crests and swings back. A minute inspection reveals minuscule tears in the paper, evidence of how much stress Lee's method puts on his supports.
In the last decade, Lee has begun to experiment with his basic style, drawing on large canvases and even adding traces of color. He has coated several of his recent canvases with a tinted medium, which provides a light washy blue and green background for knotty clusters of black and blue lines (a few years ago, Lee had to switch to blue ballpoint when his favorite black model was no longer produced). BL-054 looks like a field of sparkling stars seen through gauze. In 903, Lee even introduces some red colored pencil strokes.
Most impressive of all is BL-060, a monumental (84 by 144 inches) blue-inked canvas work from 2005. A gently curving form slowly descends into clusters of hatching lines trailing toward the bottom of the canvas. It could be a glacier melting—it has that kind of meditative stillness that comes with geological time. Northrup, noting the importance of mountains in Korean thought and religion, likens the image to the outline of a mountain range; the effect is even more pronounced in the piece next to it, whose silhouette rises to a sharp Everest-like peak.
Usefully, the exhibit also displays many pages of Lee's preliminary sketches—none dare call them doodles. These show him trying out combinations of swirls and ovals and purposeful squiggles. Lee even obliged the museum by sending along a bucketful of used pens, enclosed in a plastic box—he must be good for Staples stock. This is the first museum retrospective for Lee, who, at age 55, is well along in his career. It is richly deserved.
Il Lee: Ballpoint Abstractions shows through July 8 in the upstairs gallery at the San Jose Museum of Art, 110 S. Market St., San Jose. (408.294.2787)
Send a letter to the editor about this story.