March 15-21, 2006
home | metro silicon valley index | silicon valley restaurants | review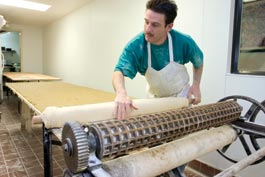 Photograph by Felipe Buitrago
So slow, we challenge you to detect any motion at all in this photo: Daryl Lupretta rolls out a top layer of dough for ravioli at Lupretta's Deli in Saratoga.
Slow Motion
Get more out of your food by discovering the Slow Food movement in the South Bay and beyond
By Leith Steel
SLOWLY BUT SURELY, the snail is encircling the earth. Not just any snail, but the Slow Food snail, the logo and mascot for the international Slow Food movement. Slow Food has been active in Silicon Valley since 1997, when David Eastis founded the Silicon Valley chapter (called a "convivium" in Slow Food parlance) of the international organization. What began as a group of only a few people, and one of the first such groups in the nation, has since grown into a network of more than 500 Silicon Valley residents. Now the snail is leaving its footprint on the entire region with the newly released Slow Food Guide to San Francisco and the Bay Area.
Slow Food's now legendary inception can be traced to Carlo Petrini, an Italian journalist, who was incensed when a McDonald's opened across from the Pantheon in Rome. He saw quality of life sacrificed for modern-day convenience and speed, the juxtaposition of ancient culture, beauty and art against efficiency and contemporary corporations. In an effort to mobilize people against this invasive corporate dominance, Petrini founded the group that was to become Slow Food in 1986.
"We are enslaved by speed and have succumbed to the same insidious virus: fast life, which disrupts our habits, pervades the privacy of our homes and forces us to eat fast foods." Such is the theory behind Slow Food as stated in the Slow Food Manifesto. The mission of Slow Food is to preserve these foods, to educate consumers about healthy and good food choices, to preserve a more enjoyable way of life, to link consumers with growers and producers, and most importantly, to take pleasure in everyday life.
In the introduction to the new guide, Slow Food USA states that its mission is to "create a community of people who believe in a better food system. We take action by teaching the value of good food, preserving our endangered food and traditions, and connecting people at all points along the food chain." This last part is the purpose of the new guide, to help Bay Area residents find these valuable producers of traditional foods.
Take It Slow
The guide is organized first by restaurants—which are arranged according to cuisine, from Afghan to Vietnamese—and then by bars and nightlife, specialty foods and shops and a section for the outlying areas. Handsome black and white photographs help break up the text, and informative boxes profiling specific businesses add a personal touch to the book.
Informative and easy to use, the guide is a reference to the Bay Area restaurant scene, but it only scratches the surface. It would be impossible to compile a comprehensive list of all the places that deserve mention in the guide. The sheer wealth of locations to choose from alone is daunting. Not to mention the added complexity that restaurants come and go like teeny-bopper boy bands; already at least one of the restaurants in the guide has inevitably closed its doors.
Unsurprisingly, San Francisco is much better represented than Silicon Valley. While a number of Korean restaurants in San Francisco are included in the book, none of the many places in the tofu town strip of El Camino Real running through Santa Clara littered with Korean restaurants are mentioned.
What the guide does best is highlight restaurants and shops particularly noteworthy for their dedication to pure ingredients and old traditions. Red snail icons pinpoint these honorable institutions. It is unfortunate that many of these places are very expensive; at some points it reads more like a guide to luxury dining than to finding traditional or sustainable foods. I also question the appearance of a restaurant where they say the chef is so enthusiastic about some of his fish that he photographs them; apparently this particular chef is so enthusiastic about Chilean sea bass that he is helping to contribute to its extermination by overfishing by serving it on his menu. His food is great, but his choices and his style of cooking have nothing "slow" about them.
Most of the selections, though, are well chosen. While the guide can't pretend to represent all of the options in the Bay Area, it does present a number of interesting and deserving ones. Lou's Living Donut Museum received the special snail icon because it contributes to the special fabric of the Bay Area food scene. Duarte's Tavern, another recipient of the snail, is a throwback to another era and well worth the time it takes to drive out to Pescadero for its famous cream of artichoke soup and olallieberry pie. For adventurous and avid eaters, the guide is a resource, especially as a source for ethnic eats. I just wish they had highlighted more shops and producers.
Although the guide is dedicated to the farmers of Northern California, they are barely mentioned in the book. A brief listing of some of the favored farmers who sell at the local farmers markets appears, but that is it. It seems as if such an integral piece of the Slow Food foundation would have better representation. As for the farmers markets, those of Silicon Valley are ignored, and only a select few in San Francisco and the East Bay are mentioned, although each of those earned a snail.
Slow Food is about much more than restaurants. Personality profiles and case studies interspersed throughout the book help to put a face on the movement, and to remind us of its depth, I only wish they had gone further in this direction. There are so many places that deserve to be in the book, so while I can understand that not every place can make it in and that this is only the first edition, I am including here a few places that I hope make it into the next edition.
C.J. Olson Cherries, 348 W. El Camino Real, Sunnyvale, 800.738.BING
The Olson family moved to Sunnyvale in 1899 and three years later they planted their first cherry orchard. By 1931, Rual Charles Olson and his wife, Rose, decided to open their own cherry stand at the corner of Mathilda and El Camino Real to sell some of their crop. Although the family have by now sold most of the land for development, they are still known for their extraordinary cherries as well as for Blenheim apricots. Once prolific in this valley and prized for its flavor, the Blenheim is now endangered, as it is being replaced by hardier, less flavorful fruit. You can get Olson cherries directly at the Los Gatos, Menlo Park, Mountain View, Palo Alto and Saratoga farmers markets
Happy Quail Farms, East Palo Alto
David Winsberg started Happy Quail Farms in 1980, converting two acres of land spread out over four East Palo Alto backyards into farmland. Peppers are his passion. He sells all types of colored peppers, cucumbers and baby eggplant, as well as eggs from the chickens that he raises, but the peppers are the focus. Selling directly to customers at a number of Bay Area farmers markets, Happy Quail Farms fills a special niche providing a huge variety of sweet peppers including pimientos de padron, of which it claims to be the only grower in the country. These bite-size peppers are incredibly popular in Spain as a tapas item and are gaining popularity here. Every one is spicy hot.
Hodo Soy Beanery, San Jose; products available at the Palo Alto Farmers Market
To many, tofu is tasteless; but not at Hodo Soy Beanery. The plain tofu and the soy milk are sublime for their simplicity, thanks to being made fresh daily. And Hodo's products go far beyond plain. Six friendly, zealous young cousins have built on their parents' tofu production company and have found a loyal following for their new venture. From their solid foundation of organic, non-GMO-modified soybeans they have created products that appeal to a broader audience. Such examples are soy meatballs, soy noodles that they recommend in stir fries or salads, smoked tofu where the smoke flavor permeates and enhances without overpowering, and a few salad options. Most popular is a soy layer omelette where the thin layers of soy are coated with a little sugar and soy sauce and lightly pan-fried to achieve an almost meaty product. Passion, generosity and innovation, along with a reliance on the best basic ingredients, are the foundation of this adventurous venture.
Lucy's Tamale Factory, 233C White Road, San Jose, 408.729.1846
When only six items are on the menu it is important to get them right. Especially when five of the items are all variations on a theme, as is the case at this small tamale shop. Lines form out the door of people waiting to pick up large orders of tamales to go. Flavors come in chicken, or pork (both braised in a pleasantly piquant chile sauce), corn, jalapeño and sweet. To wash it all down, select a soda from the fridge or order a warm, thick atole, fragrant of cinnamon; and if you want, you can pick up your own masa to make your own tamales at home.
Lupretta's Deli, 14480 Big Basin Way, Saratoga, 408.484.0004
The Lupretta family turns out fresh, homemade ravioli using a special ravioli press dating back to 1908. People come from as far away as San Francisco and Monterey to get filled pasta from one of the last family-owned fresh ravioli makers in the Silicon Valley.
Phipps Country Store, 2700 Pescadero Road, Pescadero, 650.879.9787
Some kids run lemonade stands, but in 1978 the Phipps children started selling the produce from their family's farm in the old garage. Now the old garage has been replaced with a large store, and the cigar box replaced with a cash register. But they still offer one of the Bay Area's best selections of dried beans, peas and pulses, as well as honey, jams, grains, flours, herbs, spices and other produce. An excellent place to visit with children; behind the store is a barnyard where kids can visit the animals, and Phipps is one of the few places in the area offering you-pick berries.
Treat Ice Cream, San Jose; sold at Lunardi's under their private label
Treat ice cream is such a treat that it is a shame that it is not more widely available. It is sold mainly under other labels, a scheme that minimizes marketing costs for this small sole proprietorship. All of the attention clearly goes to producing the best flavors of ice cream. It begins with fresh, premium ingredients, and ends with ice cream that is intensely flavored yet so light on the tongue it dissolves instantly. A bite of their Coconut Pineapple ice cream is like biting into a tropical cloud. Other hits include an ethereal Butterscotch Marble and Chocolate Fantasy, a chocolate base reminiscent of a frozen chocolate soufflé, with its intense flavor but feather-light texture with fudge sauce and dark chocolate pieces swirled in.
Webb Ranch, 2720 Alpine Road, Portola Valley, 650.854.5417
The Webb family have been farming on 265 acres of Stanford University land without pesticides since 1922. They run a produce stand on Sand Hill Road that sells raspberries, loganberries, blackberries, blue lake beans, squash, boysenberries, cucumbers wild blackberries, tomatoes, bell peppers, melons and corn in season. Dedication to freshness and premium produce is paramount; during corn season—the corn is picked hourly, arriving at designated times so you can get corn fresh from the fields. Before Halloween the ranch runs a you-pick pumpkin patch and sells Christmas trees during the holiday season.
---
'Slow' Restaurants
Don Pico's Original Mexican Bistro, 461 El Camino Real, San Bruno; 650.589.1163
Duarte's Tavern, 202 Stage Road, Pescadero; 650.879.0464
Flea Street Café, 3607 Alameda De Las Pulgas, Menlo Park; 650.854.1226
Lou's Living Donut Museum, 387 Delmas Ave, San Jose; 408.295.5887
The Village Pub, 2967 Woodside Road, Woodside; 650.851.9888
Send a letter to the editor about this story.