03.18.09
home | metro silicon valley index | the arts | stage | review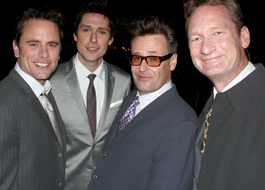 LAFF RIOTERS: Improv-ing vets Chip Esten (from left), Jeff Davis, Greg Proops and Ryan Stiles 
Laughs on The Fly
Five rules for creating an improv-comedy dynasty from Ryan Stiles of 'Whose Line Is It Anyway?'
By Steve Palopoli
ASIDE FROM the ShamWow guy, Ryan Stiles is probably the most famous weird-looking man on TV. After doing standup in Vancouver and Second City in Toronto, he became a regular on the British version of Whose Line Is It Anyway? in the early '90s. He broke into American TV with a regular role on The Drew Carey Show, but it was when the American version of Whose Line became a bona fide cultural phenomenon that Stiles' gangly looks and human-spring comic sensibility went center stage. For eight seasons, all one had to do was say "that tall guy on TV," and it was understood.
However, Stiles wasn't interested in celebrity. He prefers an ensemble, and even after Whose Line's run finally ended a few years ago, he hasn't wanted to give it up. He and three other regulars from the show—Greg Proops, Chip Esten and Jeff B. Davis—are touring an improv stage show called Whose Live Anyway? , which comes to Flint Center on Friday. Meanwhile, two other former stars of the show, Colin Mochrie and Brad Sherwood, tour a similar but differently monikered live improv show. Still on TV in what seems like constant reruns, the show that brought improv to mainstream pop-culture has become a franchise that shows no signs of waning. How has it endured? Taking a break from his recurring role on Two and a Half Men, Stiles let slip some secrets by phone.
1. CONFUSE EVERYONE: It's almost hard to remember how improv comedy was perceived by mass audiences pre–Whose Line—mostly not at all is perhaps the best way to sum it up. So when Whose Line got big, the mainstream didn't know what to do. The show was first nominated for an Emmy in the game show category, competing with The Price Is Right—apparently all those jokes about how the points didn't matter were in vain. And when Stiles was subsequently nominated for an Emmy , it was in the category of "Best Performance in a Comedy or Musical Special." His competition? Billy Joel, Barbra Streisand and Sting. "That's one of the reasons I didn't go to the Emmys that year," says Stiles. "I'll always remember I stayed home and watched a rerun of The Fugitive.  Sting won that year. I kind of did want to go, just so when one of them won I could go 'Awwwwww!' in the audience, like I had a chance. Just be really bitter."
2. DIVIDE AND CONQUER: It's not always easy to keep the names of the various live shows straight, but people know what to expect when "the stars of Whose Line Is It Anyway? " are involved. "Guys kind of fractioned off," says Stiles. "We still all get together in Vegas and do a 10- or 12-man show, you know. But the problem is you end up standing on the sidelines for half the show, because most games either have two or four people in them." As for the naming complications: "Because we're so old now, we're thinking of changing it to The Antique Roadshow anyway."
3. THROW OUT WHAT SEEMS FUNNY: Yes, it's true, all of the improvisers ready did hate the "Hoedown" game. In fact, there aren't any games in the stage show that require the stars to stand in a line. They now have room to move. But when one is playing improv games with the comedians Stiles calls "the best improvisers in the world," one has to be thinking three steps ahead. "Like, I was usually the last guy to sing, so I would just basically think of the first two things that I thought were funniest and throw them out, because I knew they were going to be done by the time it got to me," he says. "So I had to kind of think past what I thought was funny to the third choice. I didn't do that in the old days, and inevitably Colin would take my rhyme. Colin and I knew each other so well that we were thinking the same thing anyway."
4. LEAVE IN THE MISTAKES: "We could have made shows with no mistakes that were hilariously funny," says Stiles of Whose Line Is It Anyway? . "But you have to leave some stuff that doesn't work in, otherwise people don't believe it's improvised."
5. DRESS ATROCIOUSLY: Yes, they were forced to wear those crazy neon shirts by the producers, who thought it would make each performer stand out. "It kind of worked for TV. I guess it was what they needed to do," Stiles admits with a considerable amount of hesitation. "But once in a while, you were just like 'Oh, c'mon, no. No, no, no. I'm not wearing the shirt with the clams on it."  
WHOSE LIVE ANYWAY?, featuring Ryan Stiles, Greg Proops, Chip Esten and Jeff B. Davis, will be performed Friday, March 20, at 8pm at the Flint Center, 21250 Stevens Creek Blvd., Cupertino. Tickets are $31–$61; 408.864.5885.
Send a letter to the editor about this story.