03.18.09
home | metro silicon valley index | silicon valley restaurants | review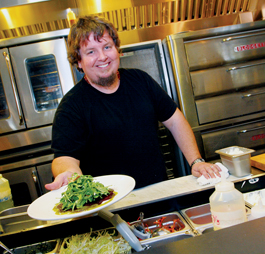 Photograph by Felipe Buitrago
WHAT WOULD GOOGLE SERVE: Charlie Ayers presents a plate of beet salad at  his new cafe in Palo Alto.
Fast Meets Slow
Google chef Charlie Ayers raises fast food to a new level at Palo Alto's Calafia Cafe
By Stett Holbrook
AS Google continues to gobble up tech companies and roll out new products in its quest for global information domination, the company has managed to maintain a positive public image. Google's halo will probably fall off one day, and the company will join the ranks of Microsoft and IBM as a big bad technology corporation, but for now Google is still cool. I would argue that one of the reasons behind Google's benign public persona is former employee Charlie Ayers. Ayers wasn't an executive or even a techie. He was Google's first chef. His eclectic, healthy food helped keep employees on campus and made them the envy of the Dockers and ID badge set. Ayers, who was once the cook for the post–Jerry Garcia Grateful Dead, generated great publicity for Google as a progressive, forward-thinking corporation by dispelling the notion that cafeterias have to serve slop. 
He left Google in 2005 after six years. Since then, he has been working on opening a restaurant that offered the public the same kind of food once enjoyed by Google employees: health-conscious, sustainably sourced good food served in a hurry. And he did want to make it affordable.
After four years and a few false starts, Calafia Cafe and Market A Go-Go opened in Palo Alto two months ago in the Town and Country shopping center. The restaurant combines elements of the fast-food world and the labor-intensive slow cooking of more high-end restaurants. Ayers says there are people working in the kitchen 22 hours a day because they make everything themselves from bread to soda pop to ketchup. 
In his quest to open his restaurant, Ayers traveled around the world to see how other cultures make fast but high-quality food. "I really took that [idea to heart]," he said. "How could I offer slow foods in a quick environment? ... That was something I was trying to practice all along at Google." As a result, Calafia's menu contains tacos, rice bowls and noodle dishes made with premium, often organic, ingredients. The rest of the menu is a combination of comfort food like turkey meat loaf and short ribs, quick bites and vegetable-driven dishes like veggie burgers, stir-fried greens and fresh salads.
Ayers calls his concept "slow food fast"—good-to-eat and good-for-you food that he hopes will appeal to Silicon Valley's frenetic, too-busy-to-eat pace of life. After my three visits, I would say he has hit the mark. The food is affordable and often quite good. The crowds hark back to the pre-recession days when people still had extra money to spend. The dining room is warm and inviting and in full view of the open kitchen. A big communal table lighted by a chandelier made from old milk bottles greets you as you walk in. The place gets noisy, but the old timber planks above the dining room help soften the din. Opposite the dining room is a long bar and a takeout market with pre-made food and made-to-order sandwiches that features self-checkout registers for the time-pressed.
There's a lot to recommend. Calafia makes a number of thin-crust, creatively topped pizzas. "Wolfgang's pizza" ($11) pays homage to pizza innovator Wolfgang Puck and is topped with shredded duck-leg meat, pumpkin-seed pesto, mozzarella and goat cheese. The crust is crisp but light, and the toppings are applied judiciously. The "fiery bottom BBQ pork rice ($10.75) bowl" riffs off Korean rice dishes and combines shredded pork in a sweetish barbecue sauce, with brown rice, spinach and roasted yams with a fried quail egg on top. Mix it all up and it's a delicious, satisfying mess.
The five-spice chicken fideo ($9) is another winner—chunks of chicken and vermicelli noodles in a soupy broth enlivened with mint, basil, mushrooms and cherry tomatoes.
The dinner menu offers more substantial fare for a slower-paced meal. The sous vide beef short ribs ($17) are wonderfully tender and glisten with a thick, rich glaze. The roasted mahogany salmon ($15) is sustainably farmed in Scotland and perfectly executed. 
Not everything succeeds. I'm a fan of spicy food, but the "fiery chicken drummettes" ($8) are just too hot and obliterate the Pt. Reyes blue cheese sauce served with them. The wontonlike duck dumplings ($9) taste freshly made but flavorwise are unremarkable. And while I applaud the fact that the patties are made in-house, the baked veggie burger ($9) tasted like a disk of tofu with some vegetable added in. But I have no complaints about the great garlicky, shoestring french fries with spicy house-made ketchup on the side.
Desserts like the chocolate tapioca pudding ($7.50) and lemon tart ($8) will satisfy your sweet tooth, but they're nothing special. There's a small but appealing wine and beer list as well as cocktails made with soju instead of stronger stuff. Check out the excellent house-made sodas like the ginger ale made with agave syrup ($3).
Ayers says he want to open other restaurants and spread his concept of "slow food fast." San Francisco airport and Santana Row are possibilities. The last thing the world needs is another fast-food chain, but Calafia is charting a new, more delicious course that's worth supporting—and eating.
---
Calafia Cafe and Market A Go-Go
Address: 858 El Camino Real, Palo Alto.
Phone: 650.322.9200
Hours: 11am–10pm weekdays; brunch starting at 9am Sat–Sun.
Cuisine: Eclectic.
Price Range: Most entrees $8.50–$17.
Web: calafiapaloalto.com.
Send a letter to the editor about this story.