03.25.09
home | metro silicon valley index | silicon valley restaurants | review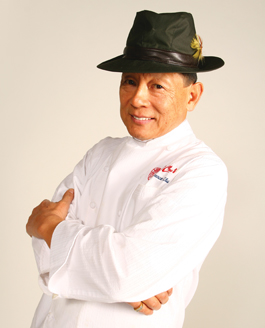 Photograph by Felipe Buitrago

Chef on the Go
Trying to keep up with Los Altos' Chef Chu is like sprinting a marathon
By Stett Holbrook
LAWRENCE C.C. Chu can be a hard man to understand at first. It's not so much that his Mandarin-accented English makes him difficult to follow, it's the speed with which he speaks. Listening to him is like starting from a standstill and trying to catch up with someone who's already in a full sprint. Chu has a lifetime of thoughts and stories about his more than four decades in the restaurant business, and he is eager to relate as many of them as possible between sips of tea. But after a few moments, one adjusts to the blitzkrieg of words and begins to understand why his restaurant, Chef Chu's in Los Altos, has become such a landmark of Bay Area dining. Chu is a man who has found his calling and revels in it each day.
"I enjoy talking, and I enjoy cooking. It fits my personality. A lot of people say I'm hyper. I'm not hyper. I have a lot of energy. Energy is better than hyper. If the energy is gone then the restaurant is gone. It starts at the top," he says, pointing to himself.
By almost any measure, Chef Chu's is one of the most successful restaurants in the Bay Area. It serves about 700 people a day and enjoys a loyal clientele of repeat customers.
The restaurant has long been a dinner stop for visiting dignitaries. Photos of Chu with Benazir Bhutto, Jimmy Carter, Mikhail Gorbachev, George H.W. Bush, Steve Young, Julio Iglesias and other VIPs hang on the wall of the lobby. Silicon Valley executives from Hewlett Packard, Intel, Google and elsewhere stop in from nearby offices for kung pao shrimp and Hunan smoked pork on a regular basis.
Even in the current sorry state of the economy, the restaurant still does a brisk business. The number of dine-in customers is down about 5 to 10 percent, but takeout orders have jumped about 5 percent, so it's almost a wash. For the past 29 years, the restaurant has put on Chinese New Year banquets, and this year the $80-per-person dinners all sold out as usual.
Most impressive of all in the here-today-gone-tomorrow restaurant world is Chef Chu's longevity. Next year, the restaurant celebrates its 40th year in business.
Part of the restaurant's success is due to its central location on the corner of El Camino Real and San Antonio Road and the huge, crowd-pleasing menu, but Chef Chu's would never have become the roaring success it is without Chef Chu himself. Through willpower, energy and the palpable force of his personality, Chu has created a restaurant that has grown into something much larger. It's a Bay Area institution.
Chu no longer cooks on a regular basis except for his popular cooking classes, but he's a constant presence in the kitchen directing his battery of cooks and walking the dining room with the watchful eye and focus of a shark, a shark that stops quickly to shake hands and greet customers, most of whom he's known for years.Cult of the Cook Chu, 66, is tall, has a full head of jet-black hair and the movie-star good looks of Chow Yun-Fat. He has a wonderfully mobile left eyebrow that he lowers to great effect when making a point he feels is important. Which happens a lot.
Chu wears a brilliantly white chef's coat embroidered with his name and a white handkerchief knotted tightly around his neck. Chu might be one of the only men I've met whose eyes actually twinkle when he speaks passionately about his restaurant. Which is all the time.
Chu was ahead of his time by personally identifying himself with his restaurant. While most Chinese restaurants name themselves after landmarks, cities or cooking styles (i.e., Great Wall, Beijing, Mandarin), Chu put his name on the restaurant because he knew people wanted to see and identify the person cooking their food.
He is one of America's first celebrity chefs and certainly the first Asian celebrity chef. He has used his brand-name recognition as a spokesman for Kikkoman soy sauce and a line of electric woks; he has cemented his reputation through his popular cooking classes, which he continues to teach in a small private dining room and kitchen inside the restaurant. He has two cookbooks under his belt and plans to publish a third later this year.
But Chu didn't set out to be a chef. He had aspirations of becoming an architect or a draftsman. He was enrolled in English classes at Oakland City College when he took a part-time job as a busboy at Oakland's Trader Vic's. Back then, in the 1960s, Trader Vic's blend of Polynesian culture, American sensibility and exotic cocktails made it one of the most popular restaurants in the country. Frank Sinatra, Bing Crosby and other A-listers were regulars. Chu was enthralled by the money and glamour, but he knew that he didn't want to remain a busboy. He rose through the ranks and became a waiter and bartender and learned the finer points of restaurant service. Chu's father owned a restaurant in Menlo Park, the Mandarin House. Chu applied for a job there and convinced his father he could improve the restaurant by applying what he learned at Trader Vic's. He taught the front of the house what he knew while he learned how to cook from the restaurant's master chef.
"I wasn't a chef. I was a student," he recalls.
Convinced that he had found his calling in the business, he decided to open his own restaurant. He thought he had a million-dollar idea: a chain of fast-food takeout Chinese restaurants that served just 12 items. In this age of Mr. Chau's and Panda Express, that hardly sounds novel, but in the late 1960s it was a cutting-edge idea. It wasn't his last.
"I wanted to have a restaurant on every corner," he said. "That was my big dream."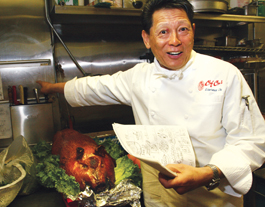 Photograph by Felipe Buitrago
HANDS ON ATTENTION: Chef Chu always understood that people wanted to see who was cooking their food.
Personal Touch
He started the restaurant in 1969 with $5,000, secondhand restaurant equipment and 12 classic Chinese-American dishes like mu shu pork and chicken chow mein.
His idea might have succeeded in another neighborhood, but Los Altos, with its well-traveled, affluent population, proved to be the wrong place for a fast-food joint.
The restaurant fell flat. So Chu talked to his customers and learned what they wanted: a sit-down, family-friendly place that offered reasonably priced food with a bit of cultural education served on the side. "I listened to my customers. I was able to change."
Originally, Chu thought he didn't need a chef, just a good concept of cheap fast food. But in time, he also realized that in order to create the kind of restaurant the public wanted he needed a chef—and that chef needed to be him.
Six months after opening, he changed gears and expanded by taking over a beauty salon next door and offered a broader menu and the kind of fine dining attention to detail he had learned at Trader Vic's. Shortly after that, restaurant critic Jack Shelton, who published influential reviews to paid subscribers, lauded Chef Chu's, and the crowds have been coming ever since.
While he considered it, he never opened another restaurant, because he knew he couldn't be present on a daily basis in more than one place, and without him in his chef's jacket and kerchief the restaurant wouldn't be the same.
"It's the personal touch that people want," he explains.
A Way of Life
As it is for many people who grew up on the peninsula, eating at Chef Chu's is a way of life for Scott O'Neil, a utility buyer for the city of Palo Alto. His uncle had a rehearsal dinner at the restaurant in 1979, and he was hooked. "I've been coming ever since," he says. "My family has all moved away but I'm still here." He counts the salt-and-pepper crab and black-pepper steak as two of his favorite dishes.
Carol Dienger goes way back with Chef Chu's. She has been to 10 of his Chinese New Year banquets and first tasted his cooking back when he worked at Mandarin House. "We've been here since day one. ... He's playing to the American palate, but he does it with class," she tells me. "He doesn't do the same old thing."
In addition to the hundreds of meals his restaurant serves each day, Chef Chu also provides hot lunches to several peninsula elementary and middle schools once a week. He says he loses money on the deal, but he does it as part of his spirit of community service and to help cultivate the next generation of Chef Chu's customers. McDonald's must envy his access to young minds and stomachs.
Chu is also a co-founder of the Asian Chefs Association (ASA), a professional and philanthropic organization. He's headed to Taiwan this summer to advise the U.S. team in competition against Asian cooks from around the world.
"I'm the oldest member but I'm the one who gets the most excited," he says ASA co-founder Christopher Yeo wouldn't dispute that. Yeo owns the modern Chinese restaurant Sino in San Jose, and Straits, a string of Singaporean restaurants in the Bay Area.
"Chef Chu is very dynamic and passionate about what he does," Yeo says. "He loves what he does, and it shows. I hope I have the same longevity as him."Purists might gripe that Chef Chu's is not sufficiently authentic or is Chinese food watered down for American tastes. In some ways, that's true. Many of the dishes on the menu are sweet and fried and designed to appeal to American tastes. But Chu is unapologetic about his restaurant's food. He says he simply takes popular dishes and refines and updates them to make them his own.
"I didn't create it," he says. "They created it." They are the American public who made egg rolls, sweet and sour pork and General Tso's chicken American standards that rank up there with apple pie and hot dogs. Chef Chu's is both a reflection of American tastes and a reinterpretation of them. While there are many standards on the menu (such as the hot-and-sour soup and mu shu pork) that have remained the same for years, once a year or so he add new dishes to the menu. He offers a prize for any cook who comes up with a new dish he likes.
Local Tastes
Chu's menu bounces all over China, reflecting his moves around China as a child. He was born in Szechuan province in the industrial city of Chongqing, but moved to Shanghai when he was 2. His father was a palace designer and architect. When he was 5, his family moved to Taiwan, part of the exodus of mainland Chinese fleeing Mao's communist government. He was too young to enjoy the culinary offerings of pre-revolutionary Szechuan, but Taiwan sparked his interest in food.
Taipei, Taiwan's capital, is one of the world's great food cities, especially known for its "night markets," where the whole city comes out to escape the heat at night and eat from countless outdoor food stalls. "That's how I developed my palate and love for food," he recalls.
His love for food expanded further when he moved to Hong Kong at age 15. There he experienced the culinary openness and experimentation and the East-meets-West style of the city's food culture that would define his restaurant years later. It's best to think of Chef Chu's as an American restaurant that serves Chinese food. In New York Times writer Jennifer 8 Lee's book The Fortune Cookie Chronicles, she reconciles her Chinese-American upbringing and the Americanized Chinese food she grew with in New York City with the "real" Chinese food she was shocked to encounter in China. She quotes the co-owner of a Chinese restaurant in Texas who explains that the driving force behind Chinese cooking is the desire to adapt and incorporate indigenous ingredients and use Chinese cooking techniques.
"Chinese cooking is not a set of dishes," she concludes. "It is a philosophy that serves local tastes and ingredients."
That defines exactly what Chu has been doing. With more than 40,000 Chinese restaurants in America—more than McDonald's, Kentucky Fried Chickens and Burger Kings combined—Chinese food long ago ceased to be ethnic food, because it's been so thoroughly incorporated into American culture.
"We come here to cook for you, not cook for me," Chu says emphatically.
Chef Chu's menu is encyclopedic and offers something for the senior citizen who sat next to me on one occasion and asked for "tomatoes and beef over rice" and for more adventurous eaters willing to delve into spicy Szechuan dishes and pickled mustard green and pork soup.
One of Chef Chu's best-known dishes is Chinese chicken salad. The restaurant typically has 23 cooks working in the kitchen, a staggering number that tells you something about the manpower needed to keep the high-volume restaurant running. One of those cook's sole task is making the Chinese chicken salad. The salad, a refreshing blend of iceberg lettuce, skinless fried chicken, ground peanuts and rice noodles in a hot mustard–sesame oil dressing, is as good as ever. Chef Chu's Chinese New Year banquets give him and his chefs a chance to stretch and offer dishes not found on the menu, dishes that verge on challenging but are still accessible to the restaurant's largely Caucasian clientele. This year, the menu featured a nine-course meal that included braised ox tail in commemoration of the year of the ox, whole roast suckling pig, kabocha squash bisque with a lobster-and-shrimp-filled eggroll, and whole fried rock cod.The event felt like a high school reunion for a class of graying schoolmates. They enjoyed seeing each other but liked Chu's cooking even more. Chef Chu's has had a long relationship with local wineries, and the banquet was paired with wines from Ridge Vineyards.
"Ridge is kind of an institution in the South Bay and Chef Chu's is too, so I think it's an appropriate pairing," said Mark Vernon, Ridge's chief operating officer, as he introduced the wines for the banquet.
At this point, you might expect me to say that after nearly 40 years in business Chu shows no signs of slowing down. It's a cliché, but like most clichés it happens to be true. Chu has no plans to retire.
"As long as I have hair on my head I'll be here. ... What else would I do? Golf? Go drinking. I don't want to be that person. This is what I love to do. ... The restaurant business is not for ordinary people. It's for people who have a passion."
Chef Chu has been proving that on a daily basis for four decades. None of Chu's four children worked in the restaurant growing up, but his daughter and son now work with him. His son Larry Jr. is general manager of the restaurant. He decided to join his father 10 years ago to ensure that the family business keeps going.
"I thought it would be sad if Los Altos didn't have a Chef Chu's," he said.
Chef Chu's customers no doubt feel the same way.
Send a letter to the editor about this story.