03.18.09
home | metro silicon valley index | silicon valley restaurants | review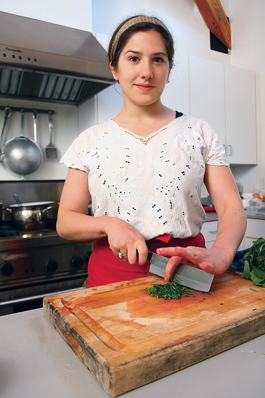 Photograph by Felipe Buitrago

Kitty in the Kitchen
As the culinary artist-in-residence at Montalvo Arts Center, Kitty Greenwald practices cooking as an art form
By Stett Holbrook
IT IS dinnertime at the Montalvo Arts Center in the Saratoga hills, and the aroma of roasting lamb and rosemary fills the large, utilitarian kitchen. Fresh bread, radishes and sea-salt-sprinkled butter are spread on the chopping block island next to a chocolate terrine just pulled from the oven.
Kitty Greenwald takes a sip of wine and tosses house-made olives and freshly shelled beans for a salad and then spreads a thick caramel sauce on the dessert while the Pogues and Wilco play from tinny iPod speakers near a stack of cookbooks.
Soon some of Montalvo's artists-in-residence wander in to see what's cooking and offer to help set the long communal table where they gather for evening meals. An easy, end-of-the-day vibe fills the kitchen as everyone relaxes and looks forward to dinner. Everyone, that is, except for Greenwald.
She fears that her leg of lamb is too dry and that the salad is too salty. Although she cooks all the meals for the Montalvo artists, she is not just a cook. Like the filmmakers, musicians, painters and other artists who spend time in residency at Montalvo, Greenwald is an artist-in-residence, too. Only instead of painting or music, her medium is food, and she's an exacting self-critic. (For the record, the lamb and salad were delicious and devoured by everyone.)
Greenwald, 29, is Montalvo's culinary fellow. She cooks for the residents, puts on special events, tends a vegetable garden and makes forays to local stores and farmers markets to shop. The 12-month-culinary fellowship program is the only one of its kind in the country and is now in its sixth year. The culinary fellows play a practical role in that they feed the artists, but they also gain experience running a kitchen and managing a budget while pursuing their own culinary interests and passions in a beautiful setting.
"I've never been afforded such supportive luxury," Greenwald says.
She is especially fond of the small garden that she tends with the help of volunteers and staff. The program encourages its culinary fellows to source their food locally and build menus around seasonal, sustainably produced ingredients. "It's wonderful playing in the kitchen with what comes up in the garden," she comments.
The culinary program was conceived as a way to offer emerging chefs a chance to hone their skills in a residency setting and places cooks on the same level as other artists in Montalvo's residency program. Established in 1939, the artist residency program is the oldest on the West Coast and the third oldest in the United States. For six decades the program was housed in Montalvo's statuesque Mediterranean villa and three nearby cottages, but in 2004 the residency moved the Sally and Don Lucas Artists Program into 10 modern, self-contained live-work studios nestled on a hillside above a seasonal creek.
In additional to the freedom to roam around an artists' colony tucked into the Saratoga foothills, residents are offered performance and exhibition space on the Montalvo grounds as well as in Bay Area and national and international locations. Dinners are served five nights a week and in the residency programs' communal building The culinary program has drawn aspiring chefs from all over—Italy, Venezuela, Israel, England and the United States. While most residency programs at Montalvo last three months, the culinary residency program spans a full year and creates a sense of continuity for the other artists as they come and go.
Kelly Sicat, Montalvo's director of programs, says that other artist colonies are interested in the culinary residency: "I know people are watching to see how it develops."
Culinary fellows must be recommended by the program's advisory committee, a panel that includes such big names in the food world such Alice Waters, author Michael Pollan and Jessie Cool, owner of Menlo Park's Flea Street Café and other Silicon Valley restaurants.
In addition to being nominated, Greenwald had to prepare a demonstration dinner for the committee, a meal that included a roasted beet and arugula salad, poached cod with a lemon verbena broth, black-eyed peas and a lime-apple sorbet. Apparently, the committee liked what they ate. Greenwald has been in residence at Montalvo since October.
Greenwald, who is originally from Washington, D.C., was involved in making documentaries when she started catering on the side. She discovered she enjoyed making food more than making films, so she decided to launch into cooking full time. She had no formal training but threw herself her culinary education and traveled to Europe where she cooked in Italy, Portugal and France. She developed a particular interest in pastry and started a food column in Portugal.
But after 2 1/2 years abroad, she decided it was time to come back to the United States. Soon after, she learned about the Montalvo culinary program.
"It's a nice place to be cooking again," she says. "It gives me a certain amount of freedom to learn the skills I need and to get better."
It's a pretty sweet gig, but the culinary fellows arguably have it tougher than the other residents. While performance and visual artists often collaborate on their work with other fellows and occasionally let others see what they're working on, Greenwald's work is on display five times a week. But the fellows can tailor their residency to suit their interests, and hers have taken her into recipe development and high-profile, off-site food events like last year's Slow Food Nation.
She says that some nights what she prepares is just dinner, while other meals are more inspired. It's a tricky balance. She must serve her fellow fellows dinner, but she's also motivated to explore her own interests. Ultimately, she says she cooks to please herself.
"I think I have a tougher skin than I used to," Greenwald says. "If I screw up [a meal], then it's OK. If I worried more about that, this fellowship would feel very small. In general, it's allowed me to do what I want, and it's up to the residents if they want to enjoy it."
Send a letter to the editor about this story.