03.18.09
home | metro silicon valley index | movies | current reviews | dvd review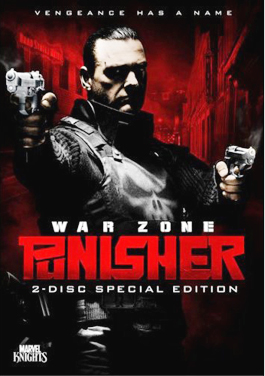 Punisher: War Zone, Special Edition
Two discs; Lionsgate; $34.98
By Richard von Busack
Of course you can lament the reactionary politics of this grindhouse vigilante movie, but such worrying hardly merits the film's lack of substance or its gossamer plot. Directed by the female martial artist Lexi Alexander, Punisher: War Zone is a surprisingly fun action movie in the 1980s vein. Everything is visible, for a change. Cinematographer Steve Gainer makes this new Punisher well-lit, with scribbles of neon providing highlights; there are a lot of deep rich purples and reds in this movie. And the film has a villain who exerts himself, in the form of the amusingly disfigured Jigsaw (Dominic West, best known as McNulty on The Wire but camping it up to the hilt here). The Punisher himself is the solemn and ginormous Ray Stevenson (HBO's Rome), who has plenty more heft than Thomas Jane, the last one to play this avenger. He keeps his face straight and his neck stiff, in the spirit of a film in which everyone seems to be having a good time. Nice to see Julie Benz, Darla from Angel, in a small role. The two-disc set comes with copious extras for fanboys—everything from commentary tracks to a making-of feature to a profile of Jigsaw to an armory special. There is also a digital copy for downloading to another device—and enough trailers to almost constitute a night's entertainment by themselves.
Click Here to Talk About Movies at Metro's New Blog
Send a letter to the editor about this story.