03.18.09
home | metro silicon valley index | movies | current reviews | film review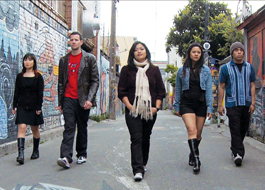 STREET WISE: E.S. Park, Mike Curtis, L.A. Renigen, Theresa Navarro and Aaron Zaragoza star in H.P. Mendoza's 'Fruit Fly,' showing March 22 at Camera 12.
Asian Attitudes
The Asian American Film Festival brings three days of features and documentaries to the valley
By Richard von Busack
FOR THOSE needing a slow withdrawal from Cinequest, start with an opening-night gala on March 20 at the San Jose Museum of Art, as the valley leg of the San Francisco International Asian American film opens a weekend-long stand at Camera 12 in San Jose. After the premiere of David Boyle's comedy White on Rice (March 20, 7pm), the 27th edition of the festival includes films from assimilated immigrants as well as work from some of the 47 countries.
One promising feature is  Tokyo! (March 21, 9:30pm), with Michel Gondry, Bing Joon-ho and Leos Carax taking three separate views of the city. Ever heard of Patsy Mink? Patsy Mink: Ahead of the Majority (March 21, 12:45pm) studies the life of the intrepid Japanese-American lady from Paia, Maui, as the first congressmember of color (1965); she served 12 terms. Perhaps her most lasting achievement was Title IX, for which all girl jocks must give Mink honor.
The Equation of Love and Death (March 21, 2pm) is Cao Baoping's story of a cabby (Zhou Xun, from Suzhou River) trying to find her boyfriend. Tze Chun's Children of Invention (March 21, 4:30pm) concerns the growth industry of squatting, and a brother and sister hiding out in a new development's model home after they lose their own home. Half-Life (March 21, 7pm), Jennifer Phang's  Sundance success, watches over a different brother and sister, also holed up: this time in a postapocalyptic suburb. 
The selection of shorts from the 3RD I Festival (March 21, 3pm) is extremely weak considering the wealth of talent available. Titles like "Guns" and "Love Story" promise a lack of imagination that the films fulfill with interest. One real standout: Anoar Ahmed's short Tala (Rhythm), about a young Melbourne girl's discovery of her mother's infidelity; it should absolutely be expanded into a feature film.
Heaven on Earth (March 21, 7:15pm) is the newest by Deepa Mehta (Earth, Water, Fire) in which the pressures of a badly arranged marriage are relieved with daydreams and fantasies. On March 22, Whatever It Takes (4:45pm) follows a Chinese-American principal during the first year of a South Bronx High School.
The autumnal college town Morgantown, W.V., is the home for journalist Asra Nomani (author of Standing Alone in Mecca, and a writer for Time and the Wall Street Journal). The documentary The Mosque in Morgantown (March 22, 5:15pm) concerns Nomani's public participation in what's called "a war of ideas." Brittany Huckabee's film follows the ruckus Nomani made about having to enter the rear of the local mosque—with the rest of the females—rather than through the green front door. Nomani was a good friend of the ill-fated journalist Daniel Pearl, and she sees sexual segregation as the creeping hand of fundamentalism.
The worshippers' position on this matter is that this is something that shouldn't have been made public. There are of course conservative commentators willing to make hay of the situation: what else can you expect from this repressive religion, etc. Huckabee does an excellent job of giving all sides their say and makes Morgantown a place you might want to visit—even live in.
I see no reason to violate the local media's policy of going easy on H.P. Mendoza. The maker of Colma! The Musical brings the premiere of his newest musical, Fruit Fly (March 22, 7pm), Fruit Fly follows the Filipino-American Bethesda (L.A. Renigen) as she tries to make it as a performance artist in the Bay Area. She moves into a San Francisco flat and finds herself immediately dubbed a fag hag, just because she hits the gay bars with her housemates every night. The title is synonymous with "Fag Hag," a song that is meant to be the movie's big showstopper, as we can tell from the expensive crane shot.
The eight-bit title theme, done in electronica and punk rock, has more verve, though. Mendoza certainly uses the environment well, filming on the J-Church tracks and among the Balmy Alley murals. And Mark Del Lima's attractive animation shows the city waking up and going to sleep. One low-budget innovation—a character doing a duet with a video of himself on a laptop—was very innovative, enough that you can overlook Mendoza's frequent proscenium-arch-heavy, theater-arts-department staging. 
What soured me on Fruit Fly was a subplot about an old woman in Bethesda's building "abusing rent control." "I'm the reason apartments are so expensive!" she cackles. This is a little thing and perhaps it shouldn't have stuck in the craw; it's mere revenge for uncute oldsters taking up valuable real estate that could be used better by more scenesters filling more black-box theaters with more performance art of more people painting with their feet—for such is Bethesda's act. Still, it's weird to see this unfolding of the Pinoy experience in San Francisco—from the International Hotel demonstrations to pro-Realtor message movies in three generations.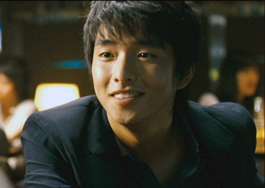 THE HORROR OF SATIRE: The short 'Good Night' walks a fine line between genres.
Asian Extras
JENNIFER PHANG'S debut film, Half-Life (shows March 21 at 7pm), is an Australian-style movie, and I mean that as an obscure compliment. It features Peter Weir–style trees semaphoring in the wind and a mix of animation and action reminding one of Sarah Watt's Look Both Ways. The parched Contra Costa County locations look like suburban Australia during the dry season, and overall, Half-Life is in the tradition of the strong-minded, semi-impressionistic women directors down under. All this in addition to the film's end-of-the-world mythology; they've made friends with the apocalypse in Australia. It's the near future, in one of the suburban neighborhoods under the shade of Mt. Diablo. The coastal plains have flooded, jets are unable to fly and the sun is going strange. A four-person ménage is trying to cope: a widowed mom (Julia Nickson-Soul), her younger, untrustworthy boyfriend and her suicidal daughter Pam (Sanoe Lake, seriously deglammed since Blue Crush) and little brother Tim, who is rapidly ascending into Godhood.
All the end-of-days kerfluffle seems just like window dressing for Pam's major malfunctions: her hopeless love for a gay male best friend, her missing father and the problem of being "exotic" in a whitebread, evangelical Christian suburb. Half-Life contains a knife-edged joke about an African American teacher trying to get a young Asian student to revisit her boat-person heritage. Taking the sci-fi route is a credible way of flavoring a broken-home blues movie. Phang—who has an excellent eye—figured out a number of thrifty ways to show things falling apart and the center not holding. The movie has nice sour touches—for example, the father of the gay son warning his boy, "I read in U.S. News and World Report that the human anus is chock-full of E. coli bacteria."Mixtape 4 the MSG Addict (March 22 at 2:30pm) includes three attempts at horror; four, if you count Yasmine Gomez and Eric du Plessis' sweetly funny monster movie Self-Absorbed. Ning Li's "Still for Now" contrasts a burgeoning Manhattan affair with a gnawing, crawling creature hiding in the basement of a couple's new apartment. Very, very heavy on the David Lynch. "Son of Golem" is either a parody of gore-horror, or an inadvertent parody of the same. It's better not to have someone making those "I will suck your soul, I will break your bones" threats unless they have the acting chops for it. The best entry, "Good Night," is located in a prime piece of artistic real estate between horror and social satire. In Korea, a doctor promises great success to struggling students—at a very hefty price. Also noteworthy in the shorts program: "Good Luck Counting Sheep" an inventive satirical rotoscoped fantasia, featuring Dolly the Cloned Ewe and Celine Dion. The uproarious "The Others" is a kind of tribute to Lou Diamond Phillips. In a craftily edited montage, the Anthony Quinn of our age shows his repertoire of ethnicities, from Navajo to Nanook; by participating in this experimental short, Phillips shows himself not only hard working, but possessed of a good sense of humor. Plus, thanks to the miracle of editing, he has the ability to play a passionate love scene with himself—E. coli be damned.

THE INTERNATIONAL ASIAN AMERICAN FILM FESTIVAL runs March 20–22 in San Jose at Camera 12. See www.asianamericanmedia.org for details.
Click Here to Talk About Movies at Metro's New Blog
Send a letter to the editor about this story.