03.18.09
home | metro silicon valley index | movies | current reviews | film review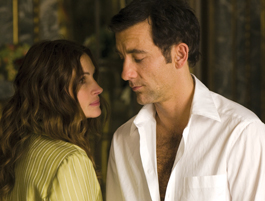 Photograph by Andrew Schwartz/Universal Pictures
SPY GAMES: Clive Owen and Julia Roberts fool around in 'Duplicity.'
Mole People
'Duplicity' tries to bring back the spy-romance glitz of another cinematic era
By Richard von Busack
THIS IS THE kind of curdled swank that has the male lead, Clive Owen, acting like Cary Grant against a lead female character named Stenwick (pronounced "Stanwyck"). Sadly, the pulseless and circuitous Duplicity isn't going to be bringing back the golden age of movies. It tries to recall the 1960s slice-of-cake with split-screen, harpsichord music, treacherous lovers and exotic locations; viewers are hustled through the postcard ops with such speed that they would be better off with Rick Steves. Director/writer Tony Gilroy adds some modern convoluted storytelling. From the main plot, the film flashes back to the two espionage-loving lovers doing different jobs over the course of their five-year-affair. They are professionals, whose job it is to trick each other and the rest of the world. The game begins in Dubai on the July 4, 2003. MI6 agent Ray (Owen) thinks that he has landed a smooth pickup, but he's knocked cold for 16 hours: Claire (Julia Roberts) slips him a champagne Mickey. It's up to us, as the old joke about the countess on the ocean liner goes, whether this tryst constituted a proper introduction. In 2008, Ray and Claire—still feuding—now are working together for a cosmetics company, safeguarding the interests of a savage underdog named Garsik (Paul Giamatti), who is nipping at the heels of a rival corporation. In slo-mo, we see the one time it got violent between Garsik and his nemesis Tully (Tom Wilkinson). The two of them fight like wrestlers between the muzzles of a brace of parked corporate jets.
At the end of the day, one needs someone to root for. And the cutting to international sleepovers still keeps this movie under-MacGuffined. The old Cold War movie, with its idea of bad American cats who were as bad as the rats in Moscow, always had an undertone of public service. It's hard to recall that acrid mood when you're dealing with a pair of corporations dedicated to screwing each other. (Maybe it's just that things have changed so much in the last six months; we're less likely to applaud underhanded corporate bastardry in 2009.)
As far as love of craft is concerned, one employee, Pam (Kathleen Chalfant), steals the show; her cleverness in scanning the places where the film's MacGuffin is hidden shows a love of craft. Since the business side of the equation isn't very interesting, Gilroy hopes that we will be dedicated to the chic lovers and their proposition: "Nobody trusts anybody; we just cop to it." It's here that the would-be wickedness breaks down. Roberts has a strange aura of displeasure. She is probably trying to do Eva Marie Saint's Eve Kendall in North by Northwest, with less WASP politeness. At just over 40, Roberts is still young. In the much-advertised love scenes (that's a hive of publicists you hear buzzing), the flesh of her back looks soft and well cared for. But something, perhaps plastic surgery or Botox, has given her an ominous mask. Owen's undoubted masculinity is undimmed, but he gets peevish when he's dealing with Claire's chilly trickery. Despite the risqué lines—Claire asks Ray, "What did you have in mind, in terms of vengeance?"—it seems like all talk and no action. Duplicity is in the water, deadwise; it's the sterile offspring of Last Year at Marienbad and Charade.

DUPLICITY (PG-13; 125 min.), directed and written by Tony Gilroy, photographed by Robert Elswit and starring Julia Roberts and Clive Owen, opens March 20.
Click Here to Talk About Movies at Metro's New Blog
Send a letter to the editor about this story.