03.18.09
home | metro silicon valley index | movies | current reviews | film review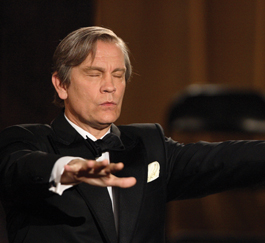 Courtesy Magnolia Pictures
FOR MY NEXT TRICK: John Malkovich plays an egotistical mentalist in 'The Great Buck Howard.'
The Seer
'The Great Buck Howard' gives John Malkovich a comic gem of a role as a theatrical monster
By Richard von Busack
IT IS more than just the final title card—a shoutout to the Amazing Kreskin—that gives The Great Buck Howard a tang of autobiography. This movie is basically just a lot of incidents, but they sound authentic. Sean McGinly's minor but appealing comedy has a strong spine in the form of John Malkovich, here with oily toupee, well-worn tux, capped-looking teeth and indeterminate sexuality. The grand Malkovich is Buck Howard, a mentalist who plays—as he puts it—"400 shows a year." The story goes that Howard had 60 appearances on the Carson show but never a subsequent nibble from "that nitwit Jay Leno." The details of show-business monstrosity seem knowing; take Howard's decision of whether a person is important enough to get a color (vs. a black-and-white) 8-by-10 photo or his insistence on the importance of just the right bottle of water in the dressing room: "It's distilled water. I am not an iron. I drink spring water."Colin Hanks plays a law school dropout with some vague notions of being a writer; he is scooped up to be part of the entourage of the Great Buck Howard. "I know you have aspirations; I can give you life experience," Howard promises. On the road from Bakersfield to Akron, the ageless performer puts him through it, even as the few remaining audiences dwindle. Emily Blunt plays a sass-heavy press agent who turns out to be the perk of Troy's job. I'm not so sure what she saw in Troy. Hanks is every inch the lightweight scion, with the quick smile and profile of his father. Tom Hanks himself comes in for a few scenes to play Troy's disapproving dad. The film is stuffed with familiar faces, from Patrick Fischler (funnyman Jimmy Barrett on Mad Men) as a Vegas type to a quick glimpse of sound-effects whiz Michael Winslow of the Police Academy movies. Real-life talk show hosts from Jon to Martha Stewart endure Howard's trademark glad-hand handshake, a vigorous wrenching like a farmer trying to start a frozen pump.Among the cast, I was sorriest to lose Santa Cruz's own Adam Scott, who drops out early. Scott, who plays a seething assistant, really brings a ton of wrath into his comedy; usually the young actors aren't brave enough to go that aggressive. Probably the film's biggest laugh comes watching this diabolical punk ogling a fat lady's milkshake as she totters down a hallway ("The best part of my job," he says later). Scott really has the most horrid smirk this side of the British Isles. Two songs by Clap Your Hands Say Yeah add to the film's melancholy good-guy mood, but film wanders in its last quarter for an upbeating that beats the movie up. The film has to have it both ways; Howard is important enough to be skewered in Entertainment Weekly, but he also can't buy a thrill with the local news media. He's a has-been, but he has the hypnotic power to put a room into a cataleptic trance. Unfortunately, no one has been able to come up with a third act for this kind of movie, which alternates between adoring the hypnotic shine of the glitter and denouncing the difficult personalities of the people who wear it.

THE GREAT BUCK HOWARD (PG; 87 min.), directed and written by Sean McGinley, photographed by Tak Fujimoto and starring John Malkovich and Colin Hanks, opens March 20 at Camera 7 in Campbell.
Click Here to Talk About Movies at Metro's New Blog
Send a letter to the editor about this story.