03.18.09
home | metro silicon valley index | music & nightlife | band review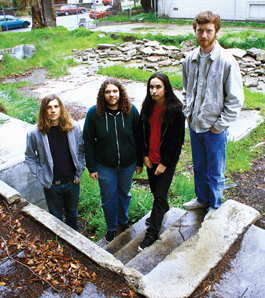 IT'S JUST OURS: Pericardium plays what it loves.
One From The Heart
With 'Salutary,' San Jose band Pericardium pumps out an eclectic mix of metal, rock and psychedelia
By Claire Young
THE PAST YEAR and a half has been a roller-coaster ride for San Jose's Pericardium. The young rock act has transitioned from a keys- and violin-heavy amalgam to a standard four-piece with two guitars, a bass and drums. And while the musical stylings of the band have morphed along with the lineup changes, the inspiration and drive to create out-of-the-box sounds has remained the same.
As teens in 2006, Sean E. Sullivan and Brooke Dabalos conspired to combine their respective favorite genres into one unique sound, each writing lyrics and singing. "At the time, it was like this idea of a collaborative project to fuse a lot of different kinds of music," says Sullivan. "Like, I was more into progressive rock, and she was into vocal jazz and stuff like that, and the idea was for us to have a different collaboration on every song." The duo, along with bassist David Marshall, brought in a friend of Dabalos' on violin and went to work, eventually pumping out everything from hip-hop to piano-laden ballads on Pericardium's first album, Apartheid of the Mind, in July of 2007.
One year later, Dabalos left the band, and shortly thereafter Pericardium went through multiple lineup changes, adding guitarist and keyboardist Mike Black, switching out their former drummer to current member Luis Munoz and seeing the departure of a second violinist. Black and Munoz have added a greater emphasis on heavy metal to Pericardium's leanings, but not to the degree that it has become a metal band. To the contrary: the quartet draws from a plethora of genres, often switching from one style to the next multiple times within one song. "I feel like in some songs we kind of just try to throw people off," says Sullivan. "I guess it's just an extension of what we all love. ... It's just ... ours, you know?"
Their eclectic mix is more than evident on Pericardium's second release, Salutary, which was recorded this past December at Castle Ultimate Studios in Oakland (where fellow San Jose rockers Picture Atlantic took their business for their 2008 release, Kleos).
In Salutary, which the band dubs as a "minialbum," Pericardium takes on the task of genre bending, breaking out of the limited molds dictated by the music industry by creating a collection of eight distinct yet cohesive tracks that morph seamlessly from psychedelia to metal to straight-ahead rock.
In parts of the album, comparisons can be drawn to 311, Smashing Pumpkins, Red Hot Chili Peppers and Pink Floyd, all with a jam band feel, but no one sound pervades Salutary's entirety. "I like just having all these different genres mixed into this one thing so then you almost can't even put a label on it anymore," says Marshall. "It's really hard to explain to people what we are, but it's kind of cool at the same time."
Though Pericardium takes its musical cues from the varied genres each of its members love, its name comes from the term for the membranous sac that encompasses the heart. "If you want to trip out about it, you can think of the band, like the three of us, [as being] like the pericardium, and [Luis] is like the heart, the rhythm," Marshall says.
To Sullivan, the band's name relates to the intimacy he feels with his lyrics, that the subjects he writes about are close to his heart. In writing the lyrics for Salutary, Sullivan drew upon his social and political views, including recent work with Students for Justice and antiwar protests, as well as emotional periods in his life such as the deaths of two friends in a car accident in 2007. "They were our age," says Sullivan of the tragedy, "and I had never really dealt with death before. So it was really eye-opening, and every time that I would write it would really come out, so that's the main theme."
Sullivan's passionate views and enjoyment of toying with his audience led to one of the strongest tracks on the album, "21st Century," a work that touches on society today in our affluent yet struggling country and that is at once upbeat musically and depressing lyrically. "It's a little more ironic," says Sullivan. "That part of the song—the middle section—is, like, the happiest that the album gets."
However, his intention isn't to spread a message of doom and gloom. "Even though I bring up some pseudoharsh political things or whatever, we're trying to preach an idea of unity," he says. "Like, we're all one, we are in this fight together, and 'salutary' means a change for the better. So on a band level, it's like we've had members leave, and we've changed up and we feel it's been a good change for us. On the level of the lyrics, it's like we're trying to be wholesome, good and peaceful individuals, and so: salutary."
 PERICARDIUM performs Saturday (March 28) at 6pm with PICTURE ATLANTIC, DOWN DOWN DOWN, BETRAYERS and WESTWOOD & WILLOW at the Venue, 4 New York Ave., Los Gatos. Tickets are $10. (www.myspace.com/pinupproductionssj)
Send a letter to the editor about this story.