03.18.09
home | metro silicon valley index | the arts | stage | review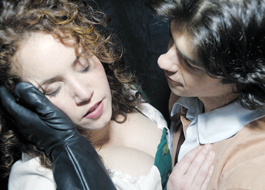 Photograph by Ray Renati
FRENCH CONNECTION: Amanda Folena and Thomas Gorrebeeck star in City Lights' new take on 'The Three Musketeers.'
One for All
By Michael S. Gant
THE SWASHBUCKLER genre pretty much dates to Alexandre Dumas' famous novel, The Three Musketeers, about d'Artagnan and the terrific trio of Athos, Porthos and Aramis in 1600s France. So ever-fresh is the attraction of flashing swords that the tale has been made into innumerable movies, most famously by Douglas Fairbanks. City Lights Theater Company playfully tweaks the classic by positing that the actor playing d'Artagnan has gone missing and must be replaced by a stagehand at the last minute.
THE THREE MUSKETEERS, a City Lights production, plays Thursday–Saturday at 8pm and Sunday at 2 and/or 7pm through April 19 at City Lights, 529 S. Second St., San Jose. Tickets are $30. (408.295.4200)
Send a letter to the editor about this story.