03.18.09
home | metro silicon valley index | the arts | stage | review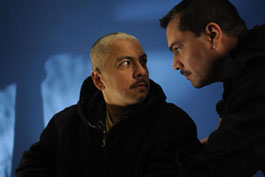 Force Field: Teatro Visión explores L.A. politics in 'Water & Power.'
Power Lines
A sibling rivalry crackles in Teatro Visión's charged drama 'Water & Power'
By Ben Marks
THERE ARE so many good moments and strong performances in the current Teatro Visión production of Richard Montoya's Water & Power that I scarcely know where to begin. So let's start with the play's prologue, delivered by the gruff, wheelchair-bound shaman gangbanger Norte/Sur (Rubén C. González), who rolls himself onto the stage to inform us that the lords of death are severely pissed off (his language is more colorful). As thunder claps around him and a young, shirtless "deer dancer" (Alejandro Flores) performs ritual steps in the background, we are immediately under the broken man's spell. Up goes the scrim to reveal a budget motel room on the Sunset Strip, where a paranoid, drug-addled cop named Gabriel García (Mauricio Mendoza) is holed up, drinking and snorting himself into a frenzy. A man enters and the cop proceeds to kick the crap out of him. A setup? No, it's just two brothers saying hello.
After dusting himself off, Gilbert García (Carlos Mendoza, who is Mauricio's real-life twin) surveys the wreckage of his brother's life as he takes calls on his Blackberry. Gilbert is a rising star in Sacramento, a Chicano-turned-Hispanic who honors his roots in East Los Angeles by doing things like sponsoring a bill to create a green zone along the L.A. River near his childhood home. He is the Water of the play's title, a nickname given to him by his father, Asunción (David Cavallero). Gabriel, Gilbert's twin, is Power. Montoya definitely wants us to consider the meaning behind these names (Power is a cop, Water attempts to float all boats through his work as a legislator), but the playwright is no mere symbolist--both monikers, it turns out, are lifted from the patch on their father's coveralls (Asunción dug ditches for the Department of Water and Power). Throughout the play, flashbacks to the formative exchanges between the father and his sons (played one at a time by the guileless Alejandro Flores) are like glimpses of Gabby and Gibby's personal creation myths.
From these elements, Montoya's wonderfully written and cleverly staged play unfolds. We meet Norte/Sur several more times; the scene in which he and Power discuss the relative merits of different sources of "muscle" is at once hilarious and chilling. We follow Water to the lair of the Fixer (a deliciously smarmy Tom Gough) to see just how much humiliation Water will take in his quest to extricate his brother from the hole he's dug for himself. And under it all is the rumble of the machinery that keeps L.A. humming. As others have already noted (the play was first performed at the Mark Taper Forum in 2006 and at San Diego Rep in 2008), Water & Power is part Greek tragedy, part stage noir, but it's the heart and soul underlying the piece that makes it truly thrilling.
WATER & POWER plays Thursday-Saturday at 8pm and Sunday at 2pm through March 29 at the Mexican Heritage Plaza Theater, 1700 Alum Rock Ave., San Jose. Tickets are $10-$24. (408.272.992 or www.teatrovision.org)
Send a letter to the editor about this story.