03.18.09
home | metro silicon valley index | columns | style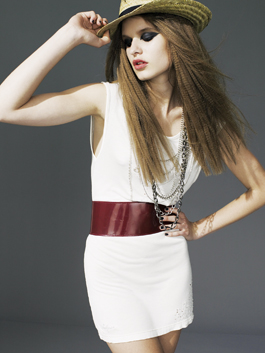 BRIGHT IDEAS: Religion offer simple but showy little white dresses for spring
Style
White Light, White Heat
By Jessica Fromm
LOOK RADIANT in white this spring in the flurry of bright alabaster sundresses that are hitting the streets as temperatures rise. The little white dress (LWD), the twin of that classic staple the little black dress, is a versatile wardrobe addition that was all over the springtime runways.
One of the most surprising trends this season is that clothing lines are eschewing the explosion of color usually seen when winter wear gives way to warm-weather attire. Though yellow has been heralded widely as the new "it" hue this year, the rest of the color palette is generally subdued, with whites, grays and light earth tones more plentiful than in past seasons—most likely a symptom of the gloomy state of the economy.
White is a cool, clean shade, and depending on the cut and fabric, the LWD can be ultracasual or übersophisticated. While black is known for its slimming effects, white naturally draws attention wherever it goes.
As such, it is important to choose a fit that flatters, because a little paunch will end up looking like a Buddha belly in a skintight white garment. One benefit of an achromatic dress is that it plays up darker skin. If you've got a melanin-friendly complexion or have been strapped to the tanning bed all winter to keep the golden glow up, these dresses will show off your glowing epidermis.
Little white dresses are also very versatile. A minimalistic white sheath or trapeze frock makes a simple, elegant option for diving into this trend. New York designers Geren Ford and Caroline Hedaya are offering graceful, effortless white sheath dresses in their spring 2009 collections that look no-nonsense and chic.
Cutout white stretch jersey dresses have also been big with the hipster crowd as of late. U.K. fashion house Religion sells a number of these but also runs the gamut of white dress styles. Their other LWD offerings include floaty, virginal white chiffon frocks and punky skintight studded cotton minidresses.
Some couturiers are taking this trend to more frilly, feminine lengths, like designers Milly and Nanette Lepore. Milly's Ecru Gauze Cord Embroidery Ruffle Dress, made out of a pallid translucent silk, has a romantic, off-the-shoulder fit, with fluttering ruffles at the sleeves and hem.
The bohemian aesthetic has also been worked into the LWD, with flattering baby-doll-cut dresses made out of bleached gauzy cloth or crisp eyelet cotton decorated with embroidery and beads.
However, be wary: if pale dresses are unlined, they tend to be see-through. As such, wearing the appropriate slips and leaving the bright pink panties and bra at home are a good idea. Whites also stain easy, so stock up on the bleach.A plain LWD is also a great way to have some fun with accessories, whether it be a wide red belt, loading up on necklaces and bangles or topping off with a straw fedora. To get away from the barrage of gladiator sandals that are everywhere this spring, try a pair of bone-tone wedges, like Aerosoles Splurge Peep-Toe Dress Sandal. Their vintage-tinged look sports cute cutouts, laces and a sling-back.
Send a letter to the editor about this story.