03.18.09
home | metro silicon valley index | the arts | visual arts | review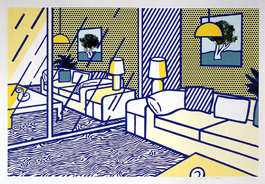 Given in honor of Gerhard Casper, president Stanford University (1992-2000), by Mr. and Mrs. John Freidenrich
INTERIOR DECORATION: Roy Lichtenstein's 1990 lithograph 'Blue Floor' is part of the Cantor's 'Pop to Present' show.
Pop-Ups
By Michael S. Gant
IN ADDITION to its traveling shows, the Cantor Arts Center at Stanford maintains a fairly strenuous collection program. The acquisitions of the last decade are being showcased in a series of shows, the latest of which is called "Pop to Present." The exhibit brings to the fore purchases and donations of major works in a variety of media by Manuel Neri, Elmer Bischoff, David Park and Richard Avedon.
 POP TO PRESENT shows March 18 to Aug. 16 at the Cantor Arts Center, Stanford University. The museum is open Wednesday–Sunday. Admission is free. (650.723.4177)
Send a letter to the editor about this story.