03.19.08
home | metro silicon valley index | silicon valley restaurants | review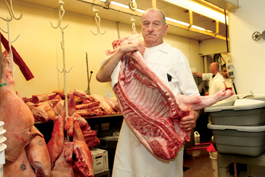 Photograph by Felipe Buitrago
HE'S ALL VAT: Dittmer Buber's son Mark makes liverwurst at Dittmer's Gourmet Meats.
Turn for the Wurst
Once almost extinct, small butcher shops offer an alternative to mass-market meat
By Stett Holbrook
THERE's an air of nostalgia at Schaub's Meat Fish and Poultry in Palo Alto. The butchers standing behind the gleaming glass cases wear thin black ties and starched white smocks and take customers' orders with attentive "yes, sirs" and "yes, ma'ams." They wrap steaks and chops in butcher paper instead of the cellophane and Styrofoam trays of supermarket meat counters. In the front window, "Champion" the coin-operated pony offers kiddie rides for 25 cents next to an old butcher-block display. The market feels like a Norman Rockwell painting come to life and is something of a culinary relic, but it's very much alive.
This type of independent butcher shop has been all but squeezed out of existence in Silicon Valley by the rise of one-stop-shop supermarkets and a shrinking pool of skilled meat cutters. New market forces such as the diversion of corn crops for ethanol instead of cattle feed and rising fuel costs have made it harder than ever for the little butcher shop on the corner.
"It's hard to make a go of it," says David Schaub, owner of Schaub's Meats and a third-generation meat man. He grew up working in his father's butcher shop in Los Gatos and later opened his own market in the upscale Stanford Shopping Center. "It's a cutthroat business."
Yet a few family-run butcher shops in Silicon Valley like Schaub's not only survive but thrive, by specializing in meat products you won't find at Costco or Safeway. In this age of meat recalls, E. coli scares and mad cow disease, the independent butcher shop offers an alternative to mass-produced, factory-farmed meat since they exercise greater quality control and specialize in higher-end products.
"We compensate for higher prices by giving [customers] something they can't get someplace else," says Schaub.
For him, that something else is a knowledgeable, friendly staff; prime, dry-aged steaks; house-made sausage; and the market's signature "Fred's" steak, a coal-black, marinated bottom sirloin that has spawned a number of imitators. The recipe is a secret.
"It's been a mainstay of our business since the 1950s," he says.
Haus Rules
There is nothing quite like Dittmer's Gourmet Meats and Wurst Haus in Mountain View. Started by German immigrant Dittmer Bubert 30 years ago, the market is a carnivore's dream-or vegetarian's nightmare. The smell of hickory and maple smoke from the refrigerator-size smokers greets you before you step inside the tidy shop. The display case seems to go on forever and is filled with an array of sausage that reflects cuisines from all over the world and Bubert's travels. There's the South African boreswores (seasoned with coriander and allspice), spicy lamb merguez sausage from Morocco, British bangers, Creole andouille sausage and a huge assortment of German and East European sausage such as Nuremberg bratwurst, blood sausage and the wonderfully named bremer pinkelwurst, a German sausage made with pork and cracked oats that's great cooked with kale.
The market makes 400 to 600 pounds of sausage a day, and attracts an international clientele because of its globetrotting lineup of sausage. There are also smoked hams, smoked pork jowls, elk, goose fat, smoked duck legs, tasso, jerky, pates and dry-cured bacon, as well as fresh meats. The market also does a big lunch business selling sausage and deli sandwiches.
It's safe to say Dittmer's knows its meats. Seventy-one-year-old Bubert, a lanky man with an eagle beak and sharp eyes, began his career as a meat cutter when he was 14 years old. His father was killed on the Russian front in World War II and young Bubert grew up hungry.
"As a kid I was always hungry for meat," he says.
He figured apprenticing in a butcher shop would be a good trade to learn and keep him fed to boot. In time, he emigrated to Canada and later California, where he worked as a butcher for Safeway for years until his wife found a market space on San Antonio Road that was for rent. Thirty years later, he only works part-time now as his son Mark and daughter Petra run the business. Keeping the business in the family is how most butcher shops manage to stay alive, he says.
"All the old ones are either selling off or shutting down," he says.
Los Gatos Meats and Smokehouse is a South Bay institution that has been around since 1892, making it one of the town's two oldest businesses. In 1991, John Chiala bought the business and now runs it along with his son, Brian. The family recently bought out Ralph's Custom Smokehouse in Willow Glen.
To stay alive, the market has had to evolve. In spite of the popularity of cooking shows and celebrity chefs, people don't spend as much time cooking as they used to, says Brian Chiala, 35, who started working in his dad's shop when he was in college. While the market does a great business in prime rib during the holidays, day in and day out it's the market's grab-and-go marinated meats and hickory-smoked jerky that constitute the bulk of the market's business.
The smell of barbecuing tri-tip and pork loin draws in a big lunchtime crowd for the market's popular sandwiches. What started as a treat for good customers has grown into another mainstay. They serve 150 to 200 sandwiches a day. In the summer and fall, hog and deer carcasses hang in the back as hunters bring in their game for custom processing.
In addition to their specialty products, Chiala says it's friendly service and the relationship he and his father have with customers that keep the business going.
"We charge a little bit more, but if I happen to get you in here I better keep you," he says.
Dittmer's Gourmet Meats and Wurst Haus
400 San Antonio Road, Mountain View. 650.941.3800.
Los Gatos Meats And Smokehouse
575 University Ave., Los Gatos. 408.354.7055.
Schaub's Meat Fish And Poultry
395 Stanford Shopping Center, Palo Alto. 650.325.6328.
Send a letter to the editor about this story.