03.19.08
home | metro silicon valley index | music & nightlife | band review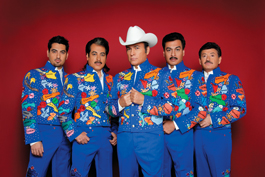 Representing Mexico: Los Tigres Del Norte might be rooted in Mexico, but they live in San Jose.
Made in San Jose
Los Tigres Del Norte explores its Mexican roots on its new album, Raices
By Mike Connor
POP QUIZ: Which local band has won four Grammy awards, sold over 32 million records worldwide, performs to crowds of as many as 200,000 people and has a street in Chicago named after them? That's right, no other local band can hold a candle to Los Tigres Del Norte, one of the world's most popular bands playing in the norteņo style—a regional genre from Mexico in which an accordion and 12-string "bajo sexto" guitars voice a polka rhythm.
LTDN specialize in intimately wrought corridos (narrative ballads). Their newest album, Raices (Roots), is a collection of traditional Mexican folkloric songs, which band leader Jorge Hernandez says are the foundation of their music.
"The idea of the classical songs from Mexico is to remind the new generation that these songs exist," says Hernandez. "It's the veins, it's the blood of the Mexican people."
While their new album pays homage to tradition, LTDN are known for playing a modernized version of the music, which includes electric versions of the traditional instruments, as well as keyboards and drums.
Theirs is a style that has gotten significantly more popular in the United States. Latin American community within the past 20 years. If you want to see for yourself, head down to the LTDN show at the San Jose Convention Center this Saturday.
The enormity of their shows, which usually feature multiple bands on two stages, is hard to convey. More than just a concert, these shows are giant community dances, and most of the roughly 8,000 people who attend them dress to impress, with guys wearing button-down Western shirts and boots and the ladies in dresses and skirts, and almost everyone sporting a white cowboy hat. Forget yours at home? Head over to the "sombreros" booth and pick up a new one, and then get ready to dance.
The Tigers of The North
LTDN are a band of brothers and their cousin, all of whom made their way to San Jose over 40 years ago. They were led by oldest brother Jorge, who was just 14 years old when they traveled from Rosa Morada, Mocorito, in the state of Sinaloa, Mexico, to San Jose. Spanish for "The Tigers of the North," the band's name was inspired by an immigration officer who called them "little tigers" as they headed north into California.
They started out playing traditional acoustic norteņo music, but quickly found popularity playing with electric instruments. Their breakthrough hit was a narcocorrido—a story about drug runners—called "Contrabando y Traicion" ("Contraband and Betrayal"). Building on that success, LTDN amassed a catalog of narrative songs chronicling the experiences of Latino immigrants. Given the subject matter, many of their songs are social and political commentary, but always with an emphasis on real experiences that they've either lived, heard about or read about.
"I think [our fans] relate to the songs that we sing because they're about a little of everything," says Hernandez. "We have immigrant songs, we sing about the histories and about the social and political problems, but we have love songs, we have melodic songs, we've got all kinds of songs."
One of their most political songs, "El Muro" ("The Wall") is not only about the wall erected between Mexico and the United States, but about many of the walls built to separate people and keep them from communicating with each other. But even when their subject matter is heavy, the songs stay festive, with only subtle hints of melancholy reflecting the sadness of a song. "We try to do it with more happiness," says Hernandez. "The people respond very well to it."
After 40 years of making music, Hernandez says his band still attracts young audiences, and it is trying to use that influence to expose them to their heritage. They created the Los Tigres Del Norte Foundation to help nonprofits do just that, but they've also been working with UCLA to digitize traditional Mexican songs and make them available on the Internet. But ultimately, the best vehicle to disseminate some of those songs is a Los Tigres Del Norte album, which is what Raices is all about. "This is the first time that we made something like this," says Hernandez. "We need to be getting these songs to the public, it's part of the old generations."
LOS TIGRES DEL NORTE perform on Saturday (March 22) at 10:10pm at the San Jose Convention Center, 408 Almaden Blvd., San Jose. Call 408.251.3326 for ticket information.
Send a letter to the editor about this story.