03.19.08
home | metro silicon valley index | the arts | stage | review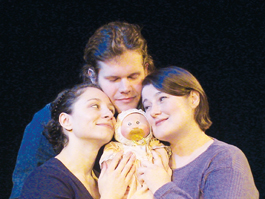 DOLL'S HOUSE: Annamaire MacLeod (left) Matthew Lowe and Katie Anderson get ready for a new arrival in 'And Baby Makes Seven.'
Bringing Up Baby
Theatre Q looks at a triangle with more than three parts in 'And Baby Makes Seven'
By Marianne Messina
HAVE YOU ever visited the house of a friend who turned out to have kids you wished would disappear? And then they did. And then you kind of wished they hadn't? Well, Paula Vogel's play And Baby Makes Seven, a Theatre Q production, will take you on that very arc. As Ruth (Annamarie MacLeod) and her pregnant partner, Anna (Katie Anderson), await the birth of Anna's child—conceived with other partner Peter (Matthew Lowe)—life around the three-way household is a little strange. In something between pet games and psychotic breaks, the women tend to erupt, midconversation, in an outpouring of juvenile alter egos. Ruth becomes Orphan, a near-feral boy with doglike behaviors and a pipsqueak voice; or she turns into Henri, a character reportedly inspired by the 1956 movie The Red Balloon. Anna becomes a precocious 9-year-old boy, modeled, we find out, after Peter, whom she's known since childhood.
Directed by Rebecca Longworth, the production finds creative ways to add humor to the transitions between personalities. For example, a character "goes away" by tapping out a few receding footsteps on the floor and suddenly emerging as adult. MacLeod snaps back and forth between Henri and Orphan with agility, particularly in a sketch where Henri is making a peanut butter sandwich and Orphan is eating it. MacLeod carries that same agility to Orphan's death scene (from "rabies"), upchucking a spew of personalities while "badly misquoting Shakespeare."
The women have promised Peter they will get rid of the kids to make room for baby. From then on, the upward ratcheting of kid-antics roughly shadows the adult emotional issues, especially Ruth's as odd-woman-out of the baby-making partnership. The imminent real baby may also be shuffling up emotional positions within the partnership—Ruth losing her position as "baby" or nurturee, for instance—though the production doesn't go out of its way to clarify psychologies. It does bring out Vogel's thoughts on imagination or "play"—"Don't be afraid to play with your child" (clearly inner and outer). And the show concentrates Vogel's other loose mythic concepts—like the death-in-birth dialectic or genesis as both creative and chaotic—in one piece of Ron Gasparinetti's set. A glowing woman-sized lamp, shaped like a dress form in approximating female curves, dominates the compact living/dining room like a fertility fetish.
Anderson's Anna, the central person in the relationship, is amusing as both brat and hormone-distraught mother-to-be, throwing a tantrum "tethered like some Goodyear blimp on Super Bowl day." And Anderson gets "ew-realism" points for dipping a pickle into peanut butter and casually eating the concoction as she talks. A soft-spoken Matthew Lowe brings patience to the role of the amazingly attentive Peter. Lowe's Peter doesn't have an ironic bone in his body, adding humor to exchanges like: "What is angst?" (Ruth). "A kind of sadness. A German sadness" (Peter). The line reminds us what Father Freud would make of all these alter-children. No matter how long it takes to start liking the alter-kids, the play's sweet ending, a sort of time-defying sense of the child in the adult in the child, is irresistible.
AND BABY MAKES SEVEN, a Theatre Q production, plays Thursday–Saturday at 8pm, Sunday at 2pm through April 6 at Dragon Theatre, 535 Alma St., Palo Alto. Tickets are $15/$20. (415.433.1235)
Send a letter to the editor about this story.