March 21-27, 2007
home | the papers | metro silicon valley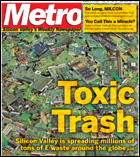 Toxic trash
Silicon Valley is spreading millions of tons of E-waste around the globe.

Dianne Feinstein resigns
Senator exits MILCON following Metro exposé, vet-care scandal.
The Fly: 03.21.07
No press pass for Sentinel.
The downside to Silicon Valley's economic recovery
Not everyone in the South Bay is benefiting from it.

Silicon Alleys
An old refrigerator holds special meaning for Gary Singh.
Technology news
Hacking can be used for good or bad—the Tor case proves the point, Annalee Newitz writes.
Sports news: NCAA West Regional semifinals and final
It's a mad, mad, mad, mad march.
Style
Amazing gray.

San Francisco Asian American Film Festival
The filmfest sets up camp in San Jose for three days of screenings.
Movie review: 'Shooter'
It aims high, hits low.
Movie review: 'Reign Over Me'
Adam Sandler feels real bad about 9/11.
Movie review: 'Journey From the Fall'
A Vietnamese film tracks the terrible migration of boat people.
This week's revivals
The best little horror house: More movies from Val Lewton's RKO horror unit at the Stanford.

MORE MOVIE REVIEWS

MOVIE TIMES

Symphony Silicon Valley
A Sunday concert proved again the acoustic advantage of the California Theatre.
Musicbox
Agent Orange, 'Urban Cowboy,' Against Me! and classical-music highlights.

MORE MUSIC AND NIGHTLIFE

MUSIC AND CLUBS LISTINGS

MUSIC AND NIGHTLIFE CALENDAR PICKS

Restaurant review: Nami Nami
A distinctive take on Japanese cuisine.
Live Feed
Making room at the table.
5 Things to Love
Restaurants with outdoor dining.

BOOK A RESTAURANT RESERVATION

FIND A RESTAURANT REVIEW

Stage: Shaolin monks, Teatro Visión and Kaisahan of San Jose
Multiculti is in the house.
Stage: 'Nixon's Nixon'
The president who was 'not a crook' rises again.
Dance: 'Blue Suede Shoes'
Ballet San Jose shakes, rattles and rolls on pointe.
Visual arts: 'Brice Marden: A Retrospective of Paintings and Drawings'
Marden adds line to color in SFMOMA show.
Book review: 'Planet Earth As You've Never Seen It Before'
Book authored by Alastair Fothergill.
Book review: 'Grand Avenues: The Story of the French Visionary Who Designed Washington, D.C.'
Book authored by Scott W. Berg.

Letters to the Editor
March 21-27, 2007.