March 22-28, 2006
home | metro silicon valley index | columns | silicon alleys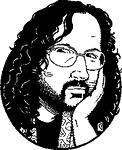 Silicon Alleys
Who'll Tell the World?
By Gary Singh
IF YOU GO SEE the movie Ask the Dust, which came out on March 10, at least think about snagging yourself a copy of the book by John Fante, which originally came out in 1939. You see, Fante was a supreme writer of the 20th century, yet hardly anyone knows who he was. The quintessential Los Angeles pre-Beat era scribe, Fante beautifully depicted the wreckage of '30s-era skid row L.A. in his ramblings. His nihilistic voyage through the cheap hotels, the dive bars and the squalor of the City of Angels was the main influence on Charles Bukowski, everyone's favorite hard-drinking, tell-it-from-the-gut wordsmith. It was the Buk's screaming and yelling that convinced Black Sparrow Press to finally rerelease Ask the Dust in the late '70s. If you're a Bukowski fan and have never heard of John Fante, you better get cracking and search out his material. Fante is where Bukowski got his whole shtick from.
In the preface to the rereleased version of Ask the Dust, Bukowski describes the day he first discovered the book in the Los Angeles Public Library. He complains about how horrible he thought most modern novelists were, and about how discovering Fante changed his life:
"Then one day I pulled a book down and opened it, and there it was. I stood for a moment, reading. Then like a man who had found gold in the city dump, I carried the book to a table. The lines rolled easily across the page, there was a flow. Each line had its own energy and was followed by another like it. The very substance of each line gave the page a form, a feeling of something carved into it. And here, at last, was a man who was not afraid of emotion. The humor and the pain were intermixed with a superb simplicity. The beginning of that book was a wild and enormous miracle to me. ... He was to be a lifetime influence on my writing."
Aside from the cruel veracity of it all, Fante's writing, like Bukowski's, just makes you want to visit Los Angeles and search out the dive bars, the cheap hotels and the underbelly that he talks about, which is precisely what Bukowski did when he first read Fante's stuff.
"Fante was my god and I knew that the gods should be left alone, one didn't bang at their door," Bukowski writes in the preface to Ask the Dust. "Yet I liked to guess about where he had lived on Angel's Flight and imagined it possible that he still lived there. Almost every day I walked by and I thought, is that the window Camilla crawled through? And, is that the hotel door? Is that the lobby? I never knew."
With all the literary travel books exploring the haunts of Hemingway, D.H. Lawrence or whomever, there are no travelogues to my knowledge that follow in the footsteps of Bukowski, and rereading all this stuff made me realize yet another thing that San Jose completely lacks. We need more native novelists putting San Jose locales into their fiction, in order to provide other folks a glimpse into what this place is like. That is, someone needs to do for San Jose what Naguib Mahfouz did for Cairo, what Kafka did for Prague or what James Joyce did for Dublin. Sorry, but a few random South Bay mentions from Steinbeck, Jack London or the Beat writers will not suffice.
Someone needs to write a series of literary masterpieces that take place in the underbelly of Silicon Valley. Stuff that the world will read. Stuff that will make this place come alive. Someone needs to fictionalize the dive bars, the strip malls, the suburban apathy, the defunct Hacienda Gardens shopping center or that cow at the Sherwood Inn on Almaden Expressway. There have been a few novels, but nothing that the world will read.
Many folks are interested in visiting famous authors' haunts that they incorporated into their novels, which is why so many books on literary travel exist. A prime example is Literary Trips: Following in the Footsteps of Fame, edited by Victoria Brooks.
San Jose needs a local novelist to help put this town on the map. If this all sounds like a naive presumptuous fantasy, it is. But that's how many novels originate, isn't it?
Send a letter to the editor about this story.