03.25.09
home | metro silicon valley index | the arts | stage | review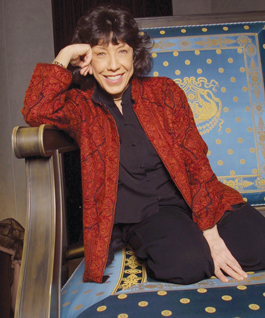 GUILTING LILY: Comedian Lily Tomlin has populated a world of wacky characters.
Out of Her Head
Lily Tomlin shares her multiple-personality disorder
By Steve Palopoli
ANYONE who saw the now-infamous YouTube videos of Lily Tomlin and director David O. Russell melting down on the set of I Heart Huckabees can understand why Tomlin would prefer to work onstage—or maybe even give up on Hollywood completely. But it didn't take a nutjob film auteur to make the multiple Tony-award-winning comedian appreciate live performance.
"I like the stage best of all, and that's what I would do if I could do nothing else," Tomlin tells Metro. "I guess I'll do it till I drop."
Though she's never really stopped touring in a career that spans over three decades, Tomlin's newest tour is a comeback—not for her, but for many of the characters she's created over the years. "An Evening of Classic Lily Tomlin," which she will perform at the Fox Theatre in Redwood City on Sunday, is not a stage show like her Broadway hit The Search for Signs of Intelligent Life in the Universe, but a retrospective of multiple personalities.
"It's a compilation of characters I've done for the last 30 years. It's pretty informal," she says. "I fancy that some of them are classic."
History is on her side; her creations have had a way of winding their way into the public consciousness—or just outright exploding overnight. That was pretty much the case with the two characters that launched her career: the 5-year-old Edith Ann, and the abrasive telephone operator Ernestine. After Tomlin joined the ground-breaking sketch comedy show Laugh-In in 1969, Ernestine in particular practically defined the kind of stardom that would later become a template for comedians on Saturday Night Live: an oddball character with one or more quotable catchphrases—in Ernestine's case, lines like "Have I reached the party to whom I am speaking?" and "One ringy dingy, two ringy dingy"—who becomes the talk of workplace watercoolers everywhere.
To this day, Tomlin doesn't really know what hit her.
"How could I get so lucky with that character?" she wonders. "She really is one of those serendipitous things, you don't know how they happen."
Which isn't to say it was dumb luck. Tomlin had been perfecting Ernestine as part of her standup act when Laugh-In heard about her.
"I didn't want to go on Laugh-In in those days. I thought it was so square," she remembers. "I thought I was the hippest of the hip, which I wasn't."
Now she's glad she gave herself an attitude adjustment. "I got on the right show at the right time," she says. "They welcomed characters, and it was a huge show, and Ernestine and Edith were such big characters."
At the time, there was a rising tide of public outrage at AT&T's monopoly, and Tomlin's portrayal of Ernestine gave it a voice. First, AT&T sent spies to the show every week, then they tried to take out some of the sting by hiring Tomlin. She remembers bursting into tears when her assistant told her about the offer, because "it was such an insult to what I thought was my artistry."
"They tried to get me to do commercials, but back then you did not do something for money. You couldn't live with yourself. I didn't care about being famous, and I didn't care about making a lot of money," she says.
Tomlin says it all with a dry tone and an occasional sigh, as if shaking her head a little at what she considers the naive and overserious attitude she wielded in the early years of her career. "I'm not too serious about anything anymore," she says.
And yet, there's a pride, too—like her memories of being so obsessed with any new material she was working on that she would grab people out of the laundromat and take them to her New York apartment to make them listen to a monologue.
"I was just mad for what I did," she says. And she still is, "but I don't drag 'em out of the laundromat anymore."
Over the years, Tomlin's other popular characters have included everyone from the upper-class Tasteful Lady to Susie the Sorority Girl to Pervis Hawkins, a male, African American R&B singer she started doing in the '70s to many a squirming white audience member.
The tricky thing about these characters for their creator is that they get more and more real over the years, as they develop new dimensions, and new details in their life stories. Including, of course, her most famous creation: "Ernestine is a person to me. She's out there somewhere."
And if they ever met? It could get complicated. "She loathes me," says Tomlin, "because she thinks I've ripped her off."  
LILY TOMLIN performs Sunday, (March 29) at 7:30pm at the Fox Theatre, 2215 Broadway, Redwood City. Tickets $60–$85. (Cityboxoffice.com or 650.369.4119.)
Send a letter to the editor about this story.