03.25.09
home | metro silicon valley index | silicon valley restaurants | review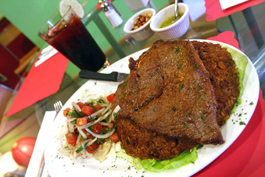 Photograph by Felipe Buitrago
TWICE AS NICE: Lots of Peruvian dishes, like tacu-tacu,have double names.
Slow and Savory
Isabella's Restaurant in San Jose serves Peruvian soul food like tacu-tacu and chicha morada
By Stett Holbrook
TIME AND AGAIN, I'm reminded that the most delicious, satisfying foods come from humble ingredients expertly and lovingly prepared. I'll take a slow-cooked lamb shank or a simmering pot of beans over caviar or filet mignon any day. Peasant cooking, slow cooking, rustic cooking—whatever you want to call it—for me that's real soul of cooking, because it relies on the skill of the cook to transform cheap, everyday ingredients into something greater.
The list of these dishes is as long as they are delicious: cassoulet (baked beans with salt-preserved duck and sausage), pozole (hominy stew made with pork neck bones), pork belly and oxtail stew. Now I've got a new dish to add to the list: tacu-tacu.
Tacu-tacu is a staple of Peruvian food. It's a fat, fried pancake made from smashed rice and beans, but it tastes like so much more. Originally, tacu-tacu was made with leftover rice and beans, an economical dish from a waste-averse culinary tradition. One of the best versions I've had is at Isabella's, a Peruvian restaurant in San Jose. It's amazing to me that a mass of smashed rice and beans can be coaxed into a plate of food that's so delicious.
At Isabella's, the starchy, beany blob ($13.95) is enlivened with onions, garlic, oregano and other spices. The outside of the cake is crusted over slightly so it has a slight crunch, but inside it's moist and wonderfully savory. The dish is topped with a thin, pan-fried steak, and the juices commingle with the tacu-tacu for added deliciousness.
But the steak is almost incidental. The huge portion of tacu-tacu is more than enough. What's also great is the red onion–cilantro-citrus salad served alongside. The bright flavors are a great paired with the earthy heartiness of the tacu-tacu.
Along with tacu-tacu, ceviche (sometimes spelled "cebiche") is another classic Peruvian dish. Given its long coastline, seafood plays a large roll in Peruvian cuisine and at Isabella's as well. What I like about Isabella's ceviche de pescado ($13.50 ) is that it's not overly marinated in lime juice. Often the lime juice dominates the taste of the fish, but at Isabella's the light touch preserves the flavor and texture of the fish, which in this case is very fresh mahi-mahi. It's still a bit pink inside and opaque at the edges. 
If you want a real taste of Peru, go for the anticuchos ($8.95), skewered and grilled veal heart. The heart is just a big muscle and is particularly good when grilled and seasoned with a little salt and lemon juice. Don't be scared. If you didn't know it was baby cow heart you'd think was just finely textured, tender beef.
Seafood dishes are good at Isabella's. Cau-cau de mariscos ($13.95, what is it with Peruvian food and repeated words?) is a filling dish of ginger- and turmeric-seasoned rice scrambled with mussels, clams, squid and fish. Arroz con mariscos ($15.95) is similar but without the aromatic, yellow-stained rice. Instead, it's seasoned with a panca sauce made from red chiles. I also liked the chupe de camarones ($13.95), a rich shrimp chowder.
Don't miss the delicious chicha morada, a Peruvian punch made with purple corn, pineapple and apple juice that's boldly seasoned with cinnamon. A small glass goes for $2.50. A large is $4.95 and is big enough to replenish a depleted aquifer.
Not everything shines. I'm sure the papas a la huancaina ($6.95) are homey comfort for Peruvian expats, but for me it was a plate of boiled potato slices with a nacho cheese sauce. The same goes for the causa rellena de pollo ($8.95). It's another Peruvian standby, but it's just mashed potatoes filled with shredded boiled chicken and peas. It was a special on one of my visits, but it's not worth ordering unless you grew up eating it.
Isabella's is owned by Freddie and Terry Pereira, and the place has the personal touch of a family business. Freddie is from Peru, and he learned to cook from his mother, Isabella. His family also owns Peruvian restaurants in Miami.
In spite of its minimall location, the dining room reveals several personal touches including the colorful walls and display case of Peruvian art and figurines. But on both my visits, the restaurant was oppressively hot and stuffy. Although the TV in the middle of the restaurant is often tuned to musicians playing Latin music, I don't like watching TV when I go out to eat. I like to do my TV watching at home.
For sweets, Freddie's sister makes the alfajores ($3), a trio of delicate caramel-filled cookies. Lucuma ice cream ($3.50) is a Peruvian classic. Lacuma is an orange-fleshed Peruvian fruit with a pit like an avocado. It's got a rich, caramel-like flavor, but I had trouble detecting it in the ice cream. Still, for hearty, generous food, I developed a sweet spot for Isabella's.
---
Isabella's Restaurant
Address: 700 S. Winchester Blvd., San Jose.
Phone: 408.248.PERU.
Hours: 11am–10pm Mon–Thu, 11am–11pm Fri–Sat and 2–8pm Sun.
Cuisine: Peruvian.
Price Range: Most entrees $10–$14.
Web: isabellas restaurantsanjose.com.
Send a letter to the editor about this story.