03.25.09
home | metro silicon valley index | music & nightlife | band review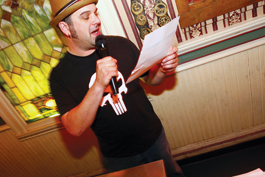 Photograph by Felipe Buitrago
STUMP THE TOSSPOTS: Quiz Master Jeff 'Bosco' Biafore asks the tough questions at Trials.
Quiz Kids
By Colleen Watson
WE STARED BLANKLY at the black-and-white photos. We needed to identify these supposedly famous people, but we were giving a rather pathetic showing. I had dragged my friend to Campbell for Quiz Night at Katie Bloom's. I had never been to this particular incarnation, but I had been to a quiz night at Trials in San Jose that I thoroughly enjoyed. The format at Katie Bloom's calls for players to form a team, give it a name and then try to answer questions tossed out at a rapid- fire pace by a quiz mistress. The night we went, there were seven rounds, including a bonus Irish-themed round because it was the day after St. Patrick's Day. We did horrible on that round.
The questions are basically pop-culture trivia. They ranged from the incredibly easy, "Which state has the most electoral votes" to who-the-hell-would-know-something-like-this?: "Which Irish poet later became a politician and was featured on the Irish 20-pound note?" (It's W.B. Yeats, dropouts.) One round consisted entirely of jumbled-up U2 song titles; I'm not that up on my U2 songs. The final round featured the pictures—I am rather proud that we got both Ella Fitzgerald and F. Scott Fitzgerald.
As the night continued, the crowd got drunker and louder. In final rounds, you could hear people shouting out answers and others mocking those answers. Quiz night is an amusing way to show off the mental flotsam that clogs yours neurons, or to publicly humiliate yourself and friends while drinking. Although my team (the Pina Colonics) had a rather poor showing, I think I'll head back again.
Places With Quiz Night
Trials Monday Night Trivia at 8:30pm. 265 N. First St., San Jose.
Katie Bloom's Wednesdays, 7:30–10pm. 369 E. Campbell Ave., Campbell.
Britannia Arms Almaden Tuesdays, Pub Stumpers Trivia. 5027 Almaden Expwy., San Jose.
The Rose and Crown Tuesdays at 8:30pm. 547 Emerson Ave., Palo Alto.
Send a letter to the editor about this story.