03.25.09
home | metro silicon valley index | the arts | stage | review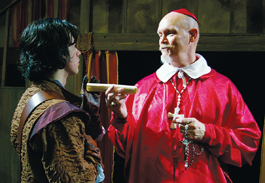 Photograph by Shannon Stowe
SPECIAL DELIVERY: D'Artagnan (Thomas Gorrebeeck) receives his commission from Cardinal Richelieu (Michael J. West).
One for All
'The Three Musketeers' get some postmodern help in new City Lights adaptation
By Colleen Watson
THERE IS a good chance that the whole reasoning behind City Lights' production of The Three Musketeers was to stage some sword fights. Barely five minutes go by without a rapier being pulled and a lot of twirling and jumping about. But this wasn't just boys with sticks, this was a testament to the knowledge of Kit Wilder, the fight director, whose realistic sword duels were the icing on the cake of an already fun play.
This adaptation, by Wilder, of The Three Musketeers is an amusing take on Alexandre Dumas' classic tale of adventuring and courtly politics in 17th-century France. The play starts out with the actor who plays the lead, d'Artagnan, a no-show. With no one else to turn to, the cast decides that a stagehand (Thomas Gorrebeeck) can play the part. And so the stagehand goes through the play with his trusty script to keep him on the straight and narrow. This device is cleverly used to explain some plot points and keep the comedy moving along. This is obviously a very loose interpretation of the novel, but for a two-hour play it does a good job of following the original story line. Although primarily a comedy first, the play does include some deeper moments, most of them coming in the second act. The set is simple, with only a few props, but the cast is engaging and the entire play feels like an intimate affair.
The characters who stole the scene every time were Porthos (John Romano) and Lady de Winter (Vera Sloan). The effeminate Porthos was a little over the top but not so much that he took the audience out of the scene. Instead, Romano pulled off a delicate balance between acting and buffoonery. It took me awhile to pay attention to what Sloan's de Winter was saying, because I was initially distracted by her very impressive décolletage. Once I saw around that, she was a joy and a hoot. Sloan plays the evil femme fatale we often end up rooting for because we want to see her onstage more, especially since the other female characters don't seem as strong or as interesting.
Jeffrey Bracco's direction takes a story that has been done many times and gives it a fresh spin. The Three Musketeers is a good sturdy story that can sustain this amusing twist.
  THE THREE MUSKETEERS, a City Lights Theater Company production, plays Thursday–Saturday at 8pm and Sunday (March 29 and April 5) at 7pm and (April 19) at 2pm, with a Wednesday (April 15) show at 8pm through April 19 at City Lights, 529 S. Second St., San Jose. Tickets are $15–$30. (408.295.4200)
Send a letter to the editor about this story.