03.26.08
home | metro silicon valley index | columns | silicon alleys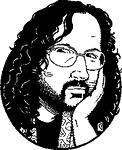 Silicon Alleys
Backwater Renaissance
By Gary Singh
IN THE TRADITION of world-class cities that preserve historical buildings and convert them to artists' spaces, along comes a project called the BackWater Arts Gallery, located in a historical San Jose home dating back to 1877. You wouldn't even know the two-story New England–style house exists, as it lies at the end of Quinn Avenue, a side street off Senter Road, buried at the back of what's now an industrial wasteland just west of Coyote Creek. If you veer off Senter down Quinn, you will dead-end at the house. The dwelling is a quintessential forgotten treasure with a long, long history. If you're out there on Senter, among the homogeneous strip-mall developments just north of Tully, you'd never even realize that a short venture down a nondescript little side street would bring you to an ancient house going back 130 years.
Back in those days, an Irishman named William Quinn came to this part of San Jose and purchased several acres of land on both sides of that section of Coyote Creek. Quinn Avenue is named after him. Another bloke named Frederick G. Wool sauntered onto the scene and acquired some of Quinn's property west of the creek and built this house. He later founded the F.G. Wool Packing Company in 1903, and the company was family-owned and -operated straight up until 1989, making it the longest continuously family-run cannery anywhere in the United States, if not the world.
The old brick cannery building still sits behind the house, along with a water tower and the whole nine yards. Although the surrounding area has long since been taken over by computer warehouses, trucking yards and the likes thereof, the original two-story home, along with a garden and a dilapidated greenhouse, remains right smack in the middle of it all—the last hanger-on from a long-forgotten era. You feel like you've left San Jose and stepped right into an episode of Green Acres and you're just waiting for Eddie Albert to walk out with a pitchfork.
One of Wool's descendants, Page Wool Hamilton, lived in the house straight up until she passed away in December of 2006 at the age of 93, and then everyone's favorite real estate developer with the cowboy hat got his hands on the property. And now, two innovative artists, Anne Sconberg and Sara Cole, have started a project to turn the historic home into a gallery and a live/work space, which is already hosting art shows, performances, workshops, animation and short films—basically, a colony where artists can just show up and congregate, a place the likes of which San Jose fatally lacks these days. Thus, BackWater Arts is alive and well, and as of right now, 10 different artists either live or rent studios in the house. A fundraising art auction will take place this Saturday from 6 to 10pm. The world is invited.
Sconberg and Cole modeled the idea after the Brewery Arts Colony in Los Angeles, a huge outpost of hundreds of art studios nestled in what used to be the former Pabst Blue Ribbon and Eastside Beer breweries, as well as a historic power plant. Many artists flock to the Brewery to live in residence while they create their work, and the waiting list to rent one of the lofts is a mile long. Sconberg and Cole have a similar idea in mind with this house, one that should be a registered historic landmark, one that should be saved before the rezoning czars pounce in with plans for more hideously uniform condos that nobody anywhere wants or needs.
And again, you wouldn't even know this house was even there at the end of Quinn Avenue unless you were looking for the place. It's that secluded. "That's why we have the whole idea of BackWater Arts as our name," Cole explained. "It's indicative of our situation here, both on this property and as an arts organization in San Jose, and the river, and that this property is a great secret little place anyway."
Contact Gary Singh or send a letter to the editor about this story.