03.26.08
home | metro silicon valley index | the arts | stage | review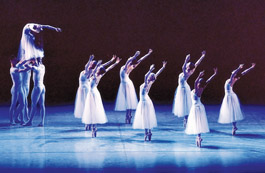 Photograph by John Gerbetz
FLUIDITY OF THE DRESS: Ballet San Jose follows the line of Balanchine's 'Serenade.'
Pure Dance Roots
Ballet San Jose showcases three pristine pieces by dance purist George Balanchine
By Marianne Messina
EVEN AN expansive dance troupe like Ballet San Jose must make periodic artistic pilgrimages back to pure dance roots, as artistic director Dennis Nahat's corps will do in this weekend's all-Balanchine program, "Just Balanchine." Nahat considers the program's three pieces—Serenade, The Four Temperaments and Theme and Variations—to be Balanchine "masterpieces that forever changed the way we view ballet."
The Four Temperaments made visual history when, in an era of big garb, Balanchine threw off all costuming. With that, says Nahat, "there was born leotard-and-tights ballet," which has challenged dancers ever since. "You have to be perfect. ... Your legs have to be in condition. You're very naked," observes Nahat, and one gets the impression he's been a taskmaster throughout the rehearsal process. No legwarmers or sweaters in The Four Temperaments rehearsals; it's down to bare tights, where "your body becomes a Stradivarius."
While rehearsing the very different Serenade, Nahat requires dancers to wear their tulle costumes—spacing in the dance line needs to account for "the fluidity of the dress." "Many times companies don't rehearse with the costume," he explains. "They put the costumes on, and then all of a sudden they're in shock because they're hitting each other."
Likewise, Nahat believes that Balanchine's signature moves aren't always delivered to audiences in their truest and finest form. He describes a "deceptively difficult" Balanchine kick movement that requires dancers to hold the standing leg on toe much longer than dancers generally do. For Nahat, mastering the technique—pushing the ankle and hips forward as the kicking leg goes up and over—is not about purism or skill but about flow and beauty. The move should look "like jumping over a moon."
Theme and Variations is so technically challenging, Nahat relates, that many dance companies cut chunks out of the variations to avoid dancer fatigue. Ballet San Jose will do no such thing. Nahat points out that the leading male leaps (Ballet San Jose's Jeremy Kovitch and Maykel Solas) are in the style of "the most imperial ballets."
Balanchine was wont to craft moves specifically for top international talents, the stars of the day. Subsequent reproductions have had mixed results. Nahat has witnessed ballerinas collapse onstage in the roles Maria Jacobs and Karen Gabay will take on.
During one of Nahat's early choreographic premieres, he discovered the late Mr. Balanchine (who took a keen interest in Nahat's work) standing alongside him at the back of the theater. After the dance was over, Nahat relates, Balanchine simply turned to him, "said, 'Good,' and walked out, got in his cab and left." However laconic in person, "the father of American ballet" went on to extol that and other Nahat works in Balanchine's Complete Stories of the Great Ballets.
For his part, Nahat's sense of onus is unmistakable. He strives to render Balanchine's artistry, not only of line but of deep sympathy with the music. Balanchine, like Nahat, was a musician before he was a dancer, which allowed him to access the complexities of Igor Stravinsky and interpret them through dance. Not all companies approach Balanchine with Nahat's personal connection and fastidious care. Nahat recalls with horror a version of Theme and Variations that "lifted" Balanchine's steps from their Peter Tchaikovsky score and set them to completely different music. "My jaw dropped," Nahat remembers. "I thought I would just simply die. ... If that's not chutzpah."
Balanchine's dance dialogued with the life around him. He let Serenade, an early-career piece composed for a dance class, grow to include incidents from the class—like a late-arriving dancer wandering, lost, through the ensemble line. Nahat finds Serenade "the most riveting and also the most heart-wrenching piece because of its innocence," and he intimates that Balanchine's choreographic honesty can be stirring from the minute the curtain goes up.
BALLET SAN JOSE presents JUST BALANCHINE Thursday–Saturday at 8pm and Sunday at 1:30pm at the San Jose Center for the Performing Arts, 255 Almaden Blvd., San Jose. Tickets are $25–$82. (408.288.2800)
Send a letter to the editor about this story.