03.26.08
home | metro silicon valley index | movies | current reviews | film review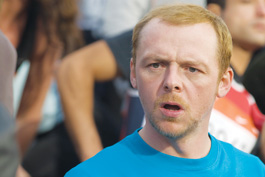 Photograph by Ollie Upton, ©2007 Picturehouse
RUNAWAY HIT? Simon Pegg starts as an ordinary guy who tackles a marathon in 'Run Fat Boy Run.'
Skeeve Racer
Simon Pegg makes an unlikely long-distance runner in David Schwimmer's 'Run Fat Boy Run'
By Richard von Busack
THE STORY of David Schwimmer's Run Fat Boy Run is sturdy and old-timey, with a healthy balance of high and low humor—and the film does go quite low. Here is the principal laugh-getter of 2008: the display of a spongy-bottomed man in bun-huggers. Just as guffaw-inducing is a new variation of the old pie-in-the-face gag using a half-quart of bodily fluid.
Underneath the crowd-pleasing gunk is a real plot, though. Almost any well-built comedy of today will turn out to have the same structure as a good silent movie, and the 1926 Harry Langdon comedy Tramp Tramp Tramp might make a good double bill with Run Fat Boy Run.
Londoner Dennis (co-writer Simon Pegg) was a runaway groom at his wedding to the visibly pregnant Libby (Thandie Newton). He has had five years to regret his weakness. Now a pot-bellied slob who works as a security guard at a lingerie shop, Dennis lives in a flat surrounded by beer bottles. When he comes to pick up his son, Jake (Matthew Fenton), Libby hints at a new man in her life: Whit (Hank Azaria), a rich and insufferable American businessman who is preparing to run in a 26-mile Nike River Run marathon.
Dennis, who claims, "I'm not fat, I'm unfit," decides to show Whit up and prove to Libby that he can start something he will finish. He is coached in this epic athletic event by his portly landlord, Mr. Ghoshtashidar (Harish Patel), as well as by his best friend (and Libby's cousin), the decadent Gordon (Dylan Moran). The latter has indebted himself heavily in a bet that Dennis will make the finish line.
Seeing The Bank Job, a top-notch heist film set in 1970, it occurred to me what I liked most was its use of so much of the old London. Like The Bank Job, and like Shaun of the Dead, Run Fat Boy Run is a film that insists on the irreplaceableness of brick walls, cigs, pints and baked beans for breakfast. Pegg's Dennis is a nostalgist, with a collection of T-shirts of the bands of the early 1980s. The film is almost as besotted about the old London as Jacques Tati was about the old Paris.
In one scene, at a back-room gambling circle, we see Mike Leigh vet Ruth Sheen's wry face. She is sharp-looking, with a beret and a red-satin blouse, slaughtering Moran's Gordon at poker. When English movies started being about Gwyneth Paltrow and stopped being about Ruth Sheen, that's when they started to lose half their IQ points.
I remember commenting that Shaun of the Dead was probably the first British movie in years not to have the so-called Gherkin building in it. Run Fat Boy Run does include a shot of the office tower at 30 St. Mary Axe. Gherkin—there's the British gift for euphemism. Arriving for a meeting, Dennis stares at this tumescent steel phallus as if he had never seen it before. The camera pulls back on the crane to shrink Dennis in the building's plaza. The long lens reads his lips, as he pronounces the famous obscene oath of horror.
Maybe choicer is the moment afterward when Dennis is trying to have a polite meeting with Azaria's Whit. Dennis suggests they go for a beer, and Whit sucks in his breath as if he had burned himself on a hot iron, or as if Dennis had asked him if he wanted to visit an opium den. He counters with an invitation to a spinning class. Azaria's Ralph Bellamying is prime; his camel-like face is supplemented with a computer-enhanced hard-body to flaunt in the gym.
Having praised Azaria, I have to add a love letter to Dylan Moran, an Irish comedian not as well known in America as he needs to be. He is a crouching, furtive party with the black tousled fur of a canal-drowned cat. A dangling cigarette complements the customary snarl, a snarl that changes to a hyena's smirk of beguilement when he wants something.
In Moran's voice, the almost musical sarcasm of James Mason meets the bray of an affronted German officer. On the BBC show Black Books, Moran invented and played Bernard Black, wine-darkened proprietor of a dank bookstore decaying into a compost heap. In one episode, the shop even drew snails. During three seasons of the show, Moran went where no one but John Cleese had gone before him, in showing cowardice, spleen, wrath and the sensible desire to not be pestered by anything good, clean or decent.
Moran is perhaps a little softer in Run Fat Boy Run, in one moment giving up his Rolex to help out his good friend Dennis. Fortunately, Gordon also tries to knock some sense into Dennis with a fistfight. It turns out to be a rather inept slapping contest, like a pair of differently abled children trying to give each other pink-bellies.
Schwimmer's direction isn't as light-footed as his cast, but he is strong on the plot points and that helps more than it seems. He insists on the logic of the story and makes sure that the reason Dennis ran away—and the reason Libby might be willing to forgive—are worked out. The attention to structure allows the comedians to go wild, and the romantic comedy makes a harmonious blend with the slapstick.

RUN FAT BOY RUN  (PG-13; 100 min.), directed by David Schwimmer, written by Simon Pegg and Michael Ian Black, photographed by Richard Greatrex and starring Simon Pegg, Thandie Newton and Hank Azaria, opens March 28 at selected theaters.
Send a letter to the editor about this story.