03.26.08
home | metro silicon valley index | music & nightlife | band review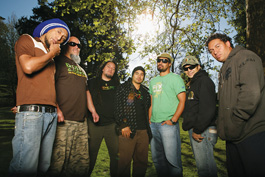 SUNBURST: Katchafire doesn't just play Bob Marley covers anymore.
Fan the Flames
Maori band Katchafire brings incendiary reggae to town
By Paul Davis
THOUGH it will always be closely associated with Jamaica, reggae has long transcended its geographical trappings and established itself as a global cultural movement. But even taking this into account, it's still disconcerting to consider the reggae stripes of New Zealand–born reggae outfit Katchafire—this is, after all, an all-Maori reggae band formed 8,000 miles and two continents away from the genre's birthplace.
As Katchafire lead singer Logan Bell explains, even though New Zealand isn't traditionally considered a hotbed of reggae music, the country's homegrown variety has a deep and rich history. "There was a statistic I heard, that [New Zealanders] were the biggest buyers of Bob Marley records per capita in the world," Bell says. "Pre-'80s, we had a lot of bands jump on the reggae bandwagon. When Bob Marley came to America in 1979, it was pretty obvious New Zealand had its own thing going on. Bob must have been shocked himself when he got here!"
Indeed—since the '70s, New Zealand reggae has had a number of well-regarded bands, such as the legendary Herbs and Twelve Tribes of Israel. Within the Maori community, Marley's appearance fanned the flames of a burgeoning Rastafarian movement that reached full blaze in the '80s. It's this rich history that Katchafire founder, drummer Jordan Bell, tapped into in 1997, when he recruited his son Logan and a handful of fellow players to form the band.
Though the group began as a Bob Marley tribute band, the members quickly began writing their own material, drawing deep upon early ska and reggae and giving it a breezy, modern flair. Within a few years—and after an auspicious break on a TV talent show that led to a recording deal—the band became one of New Zealand's biggest acts, going from playing tiny nightclubs to large venues in short order. Logan Bell says that the transition from cover band to New Zealand phenomenon was remarkably smooth.
"I think [playing] the covers was a case of the band coming together and sharing a common thing," he says. "We all grew up with reggae music, our parents listened to it and we really took to it. The covers thing was a way of grounding us—the guys were budding songwriters but none of us had done an album. We got our wings from doing the tribute thing, and gained our confidence. It was a really natural transition."
Not quite as natural a transition has been navigating the trappings of stardom when you share a band with your dad, Logan admits. "Pop's on tour; it can get a little hard," he says. "You're trying to party and your pops is over there watching and making sure you're not making a fool of yourself, which may be a good thing. It's something special to be able to play with your family. He's a cool cat—easy to get along with, he's like one of the lads."
Having conquered New Zealand, the Bells and Katchafire have spent the last few years building their star presence in the world, bringing their cross-cultural fusion to Europe and the United States. Bell notes, "At home we're household names, as big as we can be, hence the reason why we're touring the world so much."
The band clearly desires to court a worldwide audience. Though Katchafire bears a number of distinct trademarks of New Zealand reggae, the band's vision is global. "We do have a very strong cultural tradition," Bell emphasizes. "Everybody speaks the native language, but we sing in English to make it universal. The way of harmonizing in Maori is really unique—lots of three-part harmonies. It's really a way of feeling music, that's what we try to tap into with our culture and music."
Bell returns to an inspirational tale of Marley's trip to New Zealand that also serves as an apt summation of Bell's—and Katchafire's—vision of the potential of social uplift through music. With reverence, Bell tells of Marley playing for an audience consisting of a number of rival Maori gangs. "There are a few rival gangs here," Bell says, "and when Bob came out they were all out in force, flying their banners and flags. Bob asked them to lower the flags, and they're pretty staunch, but they did—he asked them to unite for the concert, and they did. It was a powerful thing—music made the staunchest guys in the room be humble men."
KATCHAFIRE performs on Friday (March 28) at Avalon, 777 Lawrence Expwy., Santa Clara. (408.241.0777)
Send a letter to the editor about this story.