03.26.08
home | metro silicon valley index | the arts | stage | review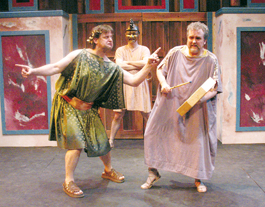 Photograph by Kit Wilder
WHO IS THAT MASKED MAN? David Hamilton hides his identity while Tom Gough (left) and Ron Talbot debate in 'Lysistrata.'
Protest Tactics
Both men and women feel the pinch in City Lights' new version of 'Lysistrata'
By Marianne Messina
AT City Lights Theater Company, director Will Huddleston's adaptation of Aristophanes' Lysistrata demonstrates that even a 2,500-year-old Greek dead guy has staying power with a little help from Viagrus. Tired of war, Athenian Lysistrata (Diahanna Davidson) talks the hawkish men's good pagan wives into swearing a chastity oath: no sex before peace. From panting Kleonike's (Beverley Griffith) prescription for getting women to a meeting—"You should have told them something big was up"—all's double entendre in withheld love and war. The randy women feel the sacrifice of their actions, and the men spend most of Act 2 with tent poles in their togas. In fact, this production's ingenious contraptions inspire wonderment: monster male members rising and falling like drawbridges; elaborate puppetry—two characters, one actor. Bawdy jokes ("It's not the heat, it's the tumidity"), obscene acts (turd toss), Greek/buffo masks, an extensive cast and suggestive, evocative choreography by Shannon Stowe all make for an ever-amusing carnival.
Rather exceptionally, Huddleston remains faithful to both the profane and the sacred with amazing historicity. Probably first performed at a Dionysian festival, the play would have celebrated an agrarian pantheon and served as a political venting spree for the democratic Athenian polis. Fertility rites, huge parodic phalluses, actors addressing (sometimes insulting) the citizen-audience have all been included or suggested in this production. Exploiting a diverse tool kit of theater elements, Huddleston mimics the confusion of tones in Aristophanes' language when high diction clashes with low. Stately incidental music may accompany a melodramatic speech while moody music accompanies an obscene one. At one point, the women try making excuses to go home to their husbands—"I have to go home and spread my wool." The chorus picks it up in a low chant: "Spread my wool, spread my wool." In spite of the hilarious, lewd double entendre, the hushed chant evokes ritualistic power—a quite Dionysian mix. In acts as simple as the way Davidson/Lysistrata pierces the wine skin with a knife (to chanting chorus) everyone seems on the verge of ritual.
The masks are all at once simple, creative, stylistically magnetic and evocative of fairy tales. Ironically, the childlike trappings present sexuality in a truly adult way, replacing the usual sniggling and self-congratulating with plain uninhibited bluntness. The bawdy humor never loses sight of the procreative urge as a force to be reckoned with. It could explode in a marching pots-and-pans band or in a suggestive, male-female dance/game of "arousal chicken." 
In casting, Huddleston has represented the Athenian polity in all its physical shapes. Aristophanes filled his play with diverse types, including gay Kleisthenes (a cuddly Daniel Norberg), iconic goddess Peace (a stunning Heidi Kobara) and Greek stars like Socrates (Ron Talbot) and Homer (David Hamilton). As the Magistrate, Tom Gough is a master of belittlement sneering from face to inflection at the women's insurrection. When the Magistrate dismisses Lysistrata's analogy—that women know how to untangle skeins of wool (diplomatic mess) without using a knife (war)—as "yarn diplomacy," the two could as easily have been debating election politics and Iraq war policy. Add the pining and priapism of lovelorn Viagrus (Thomas Gorrebeeck), and this Golden Age oldie feels uncannily current.
Marianne Messina
LYSISTRATA, a City Lights Theater Company production, plays Thursday–Saturday at 8pm and Sunday at 2pm (April 13 and 20) and 7pm (March 30 and April 6) through April 20 at City Lights, 529 S. Second St., San Jose. Tickets are $25–$40. (408.295.4200)
Send a letter to the editor about this story.