March 28-April 3, 2007
home | metro silicon valley index | music & nightlife | preview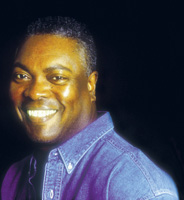 Green Onion Goodness: Booker T. Jones still loves the song that made him famous.
Soul Man
Multi-instrumentalist Booker T. Jones brings his distinctive rhythm & blues to Redwood City
By Matt Stroud
HE'S PERFORMED with legends like Bob Dylan, Stevie Wonder, Aretha Franklin and Eric Clapton; he's written music for Eddie Floyd, Otis Redding and Albert King; he's a member of the Rock and Roll Hall of Fame, a 2007 Lifetime Achievement Grammy Award recipient, and he's even shared stages with Jimi Hendrix, Ray Charles and George Harrison. From the sounds of it, this isn't a man who needs an introduction. But, strangely enough, he does.
Booker T. Jones is a rarity—a representative of a time when an instrumental backup band could take a song to No. 3 on the Billboard pop charts—without vocals. The band he conceived, Booker T and the MG's, started as studio musicians for Stax/Volt, a Memphis-based label known for helping create Southern soul, Memphis soul and early funk.
Then, one day in the summer of 1962, a 17-year-old Jones was recording backup tracks for former Sun Records star Billy Lee Riley. With guitarist Steve Cropper, bass player Lewie Steinberg and drummer Al Jackson, Jones would tinker with melodies and perform musical experiments during downtime.
The fruits of these experiments would become legendary. "Green Onions," easily one of the most identifiable tracks in pop's 20th-century canon, was recorded and later added to 11 other original songs and released as an EP under the same name. Though "Green Onions" is simple—two-bar blues played on Hammond organ, guitar, bass and drums—it is instantly recognizable and used as background in everything from Mercedes-Benz commercials to soundtracks for Get Shorty, American Graffiti, The Sandlot, Grand Theft Auto: San Andreas and others.
So, does he dislike persistently being introduced as a musician who "helped write 'Green Onions'"?
"You'd think that, wouldn't you," says Jones from his Marin County home. "But, no. I love that song." Jones takes a moment to think. He mentions that "Green Onions" is one of the songs he just never tires of. "And it's fortunate because it's my own song," he says. "Sometimes I'll be driving, and I'll hear it on the radio, and I'll be taken back in time, 40 or 45 years ago, and it's just crazy—I get a real jump-start from it, and I always have."
But, again, "Green Onions" was recorded in 1962. And since then, Jones has had a wildly successful career. Booker T and the MGs weren't just the backup band for Stax/Volt—they were the backbone. For nearly a decade, they acted as studio musicians on more than 600 albums, nurturing particularly fruitful partnerships with Otis Redding, Wilson Pickett, Neil Young and Sam and Dave. They are often cited as a major influence on the Beatles, and one rumor actually places John Lennon on his knees before guitarist Steve Cropper, kissing the man's ring in homage to the quartet's essential contributions.
They also overcame incredible hardships. In 1975, Al Jackson, the MG's' legendary drummer (who often recorded with Al Green, and even co-wrote Green's "Let's Stay Together"), was shot and killed in his apartment.
"I don't know what happened," says Jones. "It's just terrible, like when John Lennon was shot. Only this was my best friend."
Though Jackson's death cut short any immediate plans the band had for future recordings, members of the MG's went on to star in The Blues Brothers, spawn successful recording companies and sell millions of records. Jones himself branched into record production, and completed a music degree at Indiana University.
Jones considers his latest material "an upgrade to the Booker T sound." His yet untitled upcoming record, to be released this fall, will include new digital elements (he took an extensive ProTools course in 2004), and inspiration from modern performers ranging from Beyoncé to DJ Shadow. Though the sound is still the same—"There's nothing you could call 'out there' in my music," he says—his future is filled with "new goals and new directions." He's singing now, for example, and using more Latin and folk elements in his music. "It's not hyphy, or anything like that," he says, "but it's still new and exciting for me."
The Booker T. Jones Band performs on Sunday (April 1) at 7pm at Little Fox Theatre, 2215 Broadway, Redwood City. Tickets are $18-$20. (650.FOX.4119)
Send a letter to the editor about this story.