March 28-April 3, 2007
home | metro silicon valley index | silicon valley restaurants | review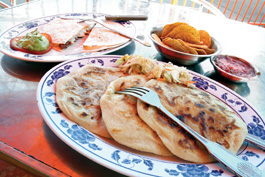 Photograph by Felipe Buitrago
Typically Untypical: Chalateco's pupusas are among their unusual offerings.
Mexican Carnival
Chalateco livens up the Mexican-food scene in Silicon Valley
By Stett Holbrook
THE LONE DINER seated across from me at Chalateco in Santa Clara was taking his time leafing through the long menu.
"This is not typical Mexican food, is it?" he said to the waitress as she took his order.
"Yes," she replied, cryptically.
Did she mean yes, it is typical Mexican food? Or did she mean, You're correct, this isn't typical Mexican food? No matter. Both answers are correct.
Chalateco, a San Jose-based, six-restaurant chain that recently opened in Santa Clara, serves Mexican City-style Mexican food and a few Salvadoran dishes. That makes the food unlike the Mexican food typically served in Silicon Valley, but it's definitely typical Mexican food. You follow me?
Chalateco—painted in garish, carnivalesque orange and yellow inside and out, with mirrors that give it a fun-house feel—serves tacos, burritos and enchiladas, but they're different from those found in most restaurants. Many of the fillings are different and their presentation is far more Mexican than Mexican-American. But what really sets the restaurant apart is its lineup of Mexico City-style dishes like gorditas, huarches, pambazos and alambres, cheap but filling street food that is to DF (as the capital city is known in Mexican parlance) what hot dogs, pizza and burritos are to San Jose.
You can't judge a book by its cover, but you can judge a Mexican restaurant by its tacos. My rule is that the smaller the taco, the better the restaurant. Chalteco's two-ply corn tortilla tacos are little bigger than sand dollars and are great, topped with just a little meat, chopped onion and cilantro. I went for a suadero taco ($1.85), a seldom-seen filling made from the rich, succulent meat cut from between beef ribs. With a squeeze of lime and dollop of salsa it's heaven on a tortilla. Speaking of salsa, be sure to ask for the avocado-thickened green salsa and the smoky chipotle salsa. They're better than the table salsa that arrives with the ho hum tortilla chips.
If you're hungry for more food—a lot more—check out the parrilladas. Think of these as the Mexican version of a Philly cheese steak sandwich, minus the French roll. "Parrilla" means grill in Spanish, but in reality the dish is cooked on a griddle. I don't know how to say "griddled" in Spanish.
The parrillada gus ($10.95) is a hillock of scrambled beef, bacon, bell peppers and stringy jack cheese served alongside soft corn tortillas to fill with the cheesy meat mixture. Alambres ($7.95-$8.75) are a similar dish: a row of tacos filled with bacon, onions, bell peppers and other fillings of your choice.
Tortas are standard taqueria fare, but here they get special treatment and easily make for two meals. The bread of the hulking sandwich is buttered and well toasted and filled with the meat of your choice as well as onions, tomatoes, avocados, pickled jalapeños, mayonnaise and crumbly dry cheese. I recommend the tinga torta ($9.99), moist chicken breast sautéed in a tangy chipotle sauce.
For a more complete meal, go for the enchiladas de poblano ($10.95), three chicken- or cheese-filled enchiladas topped with chocolate-colored silken mole that's at once spicy, salty and a little sweet.
Pupusas ($1.99), the Salvadoran national dish, are good and served with a big plastic container of house-made curtido, the pickled cabbage slaw that goes so well with all that crispy, melted cheese that oozes out of the griddle cakes.
The one dud I encountered was the chicharron gordita ($4.95), a thick and crisp tortilla pocket that looks a bit like pita bread. Trouble was, the gordita was too big and fell apart and the chicharron was fatty and chewy rather than crisp and light—or as light and fried pork can be.
Just as much of Chalateco's food differs from the usual taqueria fare, so do the drinks. There's an agua fresca made with pineapple, orange and apple juice ($1.50 small, $2.75 large) and the exceedingly gulpable michelada ($5.25), beer mixed with Clamato, chile powder and lime juice served in a frosted, salt-rimmed mug. It's the kind of drink you can order for lunch and still go back to work because it's made with less beer and, well, doesn't look like a beer. At least that was my excuse.
As I polished off my enchiladas and watched Shakira do her thing on the three TV monitors hanging in front of me, I overheard the waitress check in with the guy next to me as he dug into another bite of his parrillada.
"How is everything?"
"Great," he said with his mouth full, clearly enjoying his meal of atypically typical Mexican food.
---
Chalateco
Address: 2323 The Alameda, Santa Clara.
Phone: 408.243.1357.
Hours: 10am-11pm daily.
Cuisine: Mexican and Salvadoran.
Price Range: $1.85-$11.95.
Send a letter to the editor about this story.