March 28-April 3, 2007
home | metro silicon valley index | columns | live feed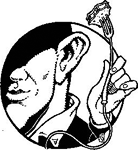 Live Feed
Hands Off That Grape
By Steve Palopoli
WINDY OAKS' Jim Schultze is not your typical California vintner. The pinot he produces down in Corralitos, a tiny community at the tail end of the Santa Cruz Mountains south of Watsonville, is the sophisticated result of a modern primitive approach. In fact, you'd be hard-pressed, no pun intended, to find a winemaker in these mountains more obsessed with what Schultz calls "extreme minimal intervention." This involves a long list of no-nos: no added enzymes or acid, no settling, no racking, no filtering, no fining. He probably wouldn't let anyone touch the grapes if he could figure out a way to make them march into the crush on their own.
Did I mention the guy is making unbelievable wine? It's enough to make you sympathize—only for a minute, mind you—with the Europeans who think California is one big laboratory turning out Frankenwines.
Then you go to something like the third annual Pinot Paradise, held March 18 at Villa Ragusa in Campbell, and remember what the best of Santa Cruz Mountain vintners can do with the notoriously difficult grape. Windy Oaks was there pouring their 2005 Santa Cruz Mountain, a pinot that once again finds them firmly grounded in their terroir but delivers a rush of dark berries. Among the other standouts was Saratoga's own Cinnabar, sporting a fabulous 2005 pinot with deep cherry and vanilla tones, and Mount Eden Vineyards, with a 2003 pinot that layers blackberry over a foundation of warm spice undertones.
Over all there were at least three dozen winemakers presenting a range of pinots whose diversity and quality truly do bear witness to this region's passion for pinot. And once again, the turnout suggested that the pinot craze shows no signs of subsiding anytime soon.
Send a letter to the editor about this story.