March 28-April 3, 2007
home | metro silicon valley index | the arts | books | review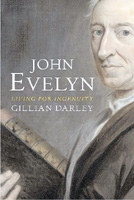 John Evelyn: Living for Ingenuity
(By Gillian Darley; Yale University Press; 382 pages; $40 cloth)

In the wake of the sorry spectacle at Walter Reed Hospital, it may be no surprise to learn that England in the 17th century relied on better stewards of veteran affairs than we do. John Evelyn, the long-lived (1620-1706) Royalist and keeper of the second-most-famous diary of his time (behind Samuel Pepys), helped plan the first hospital for British veterans and then served as treasurer for the Royal Naval Hospital at Greenwich—all with a genuine solicitude for the care of the injured. Evelyn is one of the most fascinating characters of a fascinating century. Evelyn kept his head low during the Cromwell years and then returned with the restored Charles II to a variety of governmental posts. Endowed with an insatiable curiosity, Evelyn helped establish the rich tradition of English landscape gardening, promoted vegetarianism in a beef-eating country, tackled the problem of urban air pollution, advocated timber conservation and helped found the Royal Society for the pursuit of scientific learning. Although biographer Gillian Darley maintains that Evelyn was a cutup who amused his friends with verbal antics, her dutiful biography doesn't rescue Evelyn from the shadow of Pepys, who filled his diary with the kind of pungent, intimate details that his friend suppressed. Darley doesn't attempt the kind of psychological speculation that might flesh out an exceptional career. Instead, Evelyn remains stiff and remote, his inner life forever walled off. Even the one chink in his armor—a strange relationship with a woman half his age—passes by without sufficient attention. Despite his protestations of Platonic friendship, Evelyn's doting attentions to Margaret Blagge, carried out at the expense of his long-suffering wife, hint at deeper sexual currents that Darley ignores. Evelyn deserves the attentions of a novelist with a bent for history, someone like Graham Greene, whose Lord Rochester's Monkey brilliantly dissected Evelyn's (admittedly more dissolute) contemporary, John Wilmot, the Second Earl of Rochester.
Review by Michael S. Gant
Send a letter to the editor about this story.