March 28-April 3, 2007
home | metro silicon valley index | the arts | books | review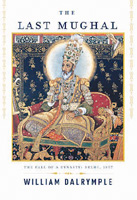 The Last Mughal—The Fall of a Dynasty: Delhi, 1857
(By William Dalrymple; Knopf; 534 pages; $30 cloth)

After centuries of Islamic rule, the Mughal empire in India started to cede power to the British. Even in decline, the Mughal court at Delhi enticed visitors with the magnificence of its past. As William Dalrymple writes in The Last Mughal, Delhi was "a groaning necropolis, with enough ruins to keep any historian busy through several incarnations." His observation that the city's "mood [was] most melancholic," reminds readers of Orhan Pamuk's description of another post-empire capital, Istanbul. The end did not come easily to the court and its aging ruler, the Emperor Bahadur Shah Zafar II. After years of unrest, exacerbated by rumors that evangelical Christian missionaries wanted to convert the locals, and finally triggered by the new Enfield rifle cartridges, which were greased with cow and pig fat and were thus an affront to both Hindu and Muslims soldiers, the sepoys (native soldiers serving under the British) revolted in May 1857. They flooded into Delhi, slaughtered any British they could find and then turned to the Muslim king for support. The uprising spread across the country and became, according to Dalrymple, the greatest challenge to a colonial power in the 19th century. Eventually, the sepoys were joined by militant jihadists, representing a new wave of Muslim fundamentalism. The British retook the city in September and indulged in a slaughter of their own. Dalyrmple's detailed account draws on Persian and Urdu sources, so it contains more diverse voices than most English histories about the period. Dalrymple is a keen and sometimes witty observer of human nature (Sir Thomas Metcalfe was "a notably fastidious man, with feelings so refined that he could not bear to see women eat cheese"), and he also offers some lessons for modern imperialists: "So removed had the British now become from their Indian subjects, and so dismissive were they of Indian opinion, that they had lost all ability to ... analyze their own position with any degree of accuracy."
Review by Michael S. Gant
Send a letter to the editor about this story.