March 28-April 3, 2007
home | metro silicon valley index | movies | current reviews | film review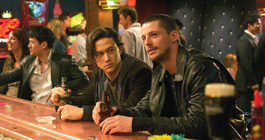 Allen Fraser/Courtesy of Miramax Films
Barflies: Joseph Gordon-Levitt (left) and Matthew Goode hand out and hoist a few in Scott Frank's 'The Lookout.'
Snow Day
Pawn Joseph Gordon-Levitt checkmates some wily criminals in 'The Lookout'
By Richard von Busack
WHEN WATCHING a film based on a legendary script—a script that everyone loved but no one wanted to produce—it is usually fairly easy to tell why the script never made it out of development. With The Lookout, however, it takes guesswork. Directed and written by the ex-Los Gatos scriptwriter Scott Frank (Out of Sight), the story is at times engagingly seamy, and there is dynamite work by Jeff Daniels as an authentic marginal man. But The Lookout doesn't have much excitement; the film simmers until it evaporates. A car with a "Give Blood: Play Hockey" bumper sticker careens down a Kansas road. Four years later, following a lesson in the consequences of driving without headlights, Chris Pratt (Joseph Gordon-Levitt) is brain-damaged. His life consists of a round of therapy—with Carla Gugino, so it's not too sad—and he suffers from short-term memory loss. He works nights at a bank in a tiny town on the plains. At a bar, Chris encounters a hustler, Gary (Matthew Goode), who remembers Chris' high school athletic fame and introduces him to some of his friends. These lowlifes include a stripper called "Luvlee Lemons" (Isla Fisher, miscast). After Chris is taken into the circle of partiers, they reveal a secret: They're bank robbers. And they've chosen Chris to be their lookout for their next job.
Every actor dreams of playing a brain-damaged character. One of the symptoms Chris suffers from is called "disinhibtion," and isn't that a quality every actor desires? And yet Gordon-Levitt gives the opposite of the usual drawling, ticcing "hard-hitting" performance. The quirky grace Gordon-Levitt displayed in Brick shows, and this film will only get him more well-deserved attention. Yet it is actually Jeff Daniels, as his housemate, whom you can't stop watching. His Lewis is a blind man who evokes the phrase "clean and sober" the instant you see him: the bluntness and prickliness make it obvious. He carries a 10-year chip on his shoulder.
As a first-time director, Frank works with deliberation. But watching this film is like riding in a car driven in the wrong gear; the actors rev up, but the film never goes any faster. Despite the conscientious explanation for every action and reaction, the story has visible holes. It's hard to understand why a brain-damaged person is commuting through 50 miles of tundra to get to a job pushing a broom. Capturing the monumental chill of the Great Plains, cinematographer Alar Kivilo (A Simple Plan and The Ice Harvest) has certainly been here and done this. He delivers one really intrepid visual effect, when a crimson neon cross from a church reflects on the window of Chris' apartment, like an X marking the spot.
The Lookout deserves praise for not being another one of those movies where, when the loser wins, he wins everything on the planet. We see the limits of Chris' dreams and know that he is always going to have his disabilities. But he lacks some sort of essential slyness, and the movie looks all figured out on paper before it was made. Top that with Daniels' compelling shrewdness, and you get the feeling that the script's fatal mistake is that it's all about the wrong character: that somehow the sidekick took over the picture.

The Lookout (R; 99 min.), directed and written by Scott Frank, photographed by Alar Kivilo and starring Joseph Gordon-Levitt, opens March 30.
Send a letter to the editor about this story.