March 28-April 3, 2007
home | metro silicon valley index | movies | current reviews | film review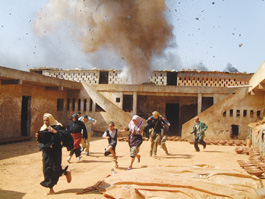 War is hell: The Iraqi people are caught in an American quagmire in 'The Situation.'
Lost in a Quagmire
Philip Haas's 'The Situation' shows a country war-torn and a journalist lovelorn in Iraq
By Richard von Busack
AFTER FOUR unspeakable years of Bush's war comes a feature film that tries to explain the dashed hopes and infuriating complications in Iraq. And it was inevitable: The Situation is cinematically tongue-tied.
The film is like a Russian novel that one has to return to more than once in order to see what name identifies whom. Just as in Tolstoy, where everyone has a proper name, a patronymic and a nickname, the Arab players in The Situation have a series of interests and relatives that are only glancingly revealed. And since this is a story of Western folly, there is no strong hero, no modern detective to string the complexities together.
Director Philip Haas (Angels and Insects) has a habit of swiveling away from conversations. Trying to recall this film is like remembering a series of urgent half-heard discussions between wary skeptics who aren't telling each other everything they know. Haas' neodocumentary approach proves even more confounding because we can't get a handle on the white heroine—a blonde foreign correspondent named Anna (Connie Nielsen) who is cracking up a bit.
Her latest story: Late one night, after curfew at a bridge checkpoint, U.S. soldiers tossed a pair of teenagers into the river, little knowing or caring whether they could swim or not. One drowns, and this atrocity has the already volatile population at Samarra furious. Anna's regular source, a humane, middle-aged Iraq-Iran war vet named Raleeq (Nasser Memarzia), reluctantly agrees to escort her to the dead boy's funeral to witness it. And there we see the various opinions on the American-backed regime.
Walid (Driss Ruokhe) arrives to mourn; he's a nonfanatic who has connections to various Saudi Arabian (and perhaps al Qaeda) guerrillas. The local big cheese turns up next, Mayor Tahsin. Saïd Amadis plays this sheik, bloated with U.S. aid, doing a James Gandolfini-worthy job of displaying criminal intent and the annoyance of having so many mooches surrounding him. A sort of balance of power exists between Tahsin and Walid. To put it another way, they aren't quite ready to strike at each other yet, except by proxy. Walid has his mujahedeen. The sheik has a huge entourage of uniformed Iraqi police watching his ample backside.
The unseen war between these two factions underlies the film, but Anna, divided in her personal life, is oblivious to it. She is developing a crush on her photographer Zaid—a good part of the audience will share that crush when they see Mido Hamada, who has some of the liquefying effect of the young Omar Sharif. Haas probably should have zeroed in on him a little more. Yet when safe in the Green Zone, Anna also submits to the embraces of an American intelligence man, Dan (Damian Lewis); it is a whiskey-fueled affair that's going nowhere.
This nowhereness comes across as maddeningly tiptoe. Even if he represents an impotent foreign policy, Lewis evinces the catlike impassivity of Steve McQueen. Lewis works the old McQueen gambit of stealing a scene by itching his ear during some supposedly important discussion. However hapless Dan may be, he bears genuine sorrow, too, because he is coming to realize the hopelessness of doing well in a war zone.
We see the source of Dan's dashed hopes: a stack of dusty and useless baby incubators that were supposed to go to a hospital; they're just like the incubators that featured in everyone's favorite—if fictional—Saddam Gulf War atrocity. Why is Anna just not into Dan? It's for Haas to know and us to guess.
Wendell Steavenson, a brave war correspondent, wrote the script. In some respects, Anna is like Steavenson, or at least how Steavenson writes about herself in her book Stories I Stole. Like Joan Didion before her, Steavenson often writes about the bad vibes she got, the drinks she shouldn't have had and the impossibility of teasing truth out of liars, methodical haters and other desperate characters.
Haas doesn't really make clear the chain of how things go wrong. We're in the dark for at least part of this complicated scheme of sellouts and paybacks. Despite it all, there's plenty of meat here, even without the wilted garnish on the dish provided by that stock figure, the wrecked Western journalist who is somehow culpable just for watching and writing.
The Situation does make the larger political situation abundantly clear, showing us how the shifting of power turns self-respecting men into Judases, how our tax dollars keep money and weapons flowing into the coffers of tribal bosses with all the self-restraint of Al Capone, how we all accept concepts like "the Green Zone"—the opposite of the Red Zone, meaning the entirety of Iraq. We see the inane confidence of conservatives vs. the bleat of turned-out liberals who went along with the incursion, believing that a bad situation couldn't be made worse if you applied the right amount of violence to it. In fine, we have a quagmire for the ages. It could be illustrated by the image of a doctor with filthy hands debriding a wound. Is he helping the patient or killing him?

The Situation (Unrated; 106 min.), directed by Philip Haas, written by Wendell Steavenson, photographed by Sean Bobbitt and starring Connie Nielsen, opens March 30.
Send a letter to the editor about this story.