March 29-April 4, 2006
home | metro silicon valley index | music & nightlife | band review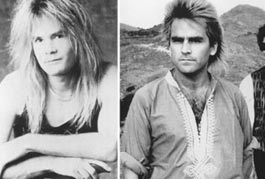 Separated at birth?: Quiet Riot's Carlos Cavazo and the Alarm's Mike Peters should take a DNA test.
Brain Dump
Hindsight is 20/20. Bonus beats from SXSW 2006.
By Todd Inoue
HERE are some extra notes that didn't make last week's South by Southwest article.
Bands who were on my list to see but skipped. Lady Sovereign, Ghostface Killah, Anthony Hamilton, Dashboard Confessional. I figure I can see these acts again. With so much to do, it becomes impossible to keep to a schedule. Hunger, sleep deprivation and intuition take over. I walked 10 city blocks to see Andy Dick and turned right around because the doorman said he canceled. All that time on foot was not lost—a text message from a friend said that the Flaming Lips were playing a secret show three blocks away, so the evening was saved.
Bands not on my list to see who I liked. The Rakes, Nico Vega, Be Your Own Pet, Jose Gonzalez
Best SXSW band names. Circle Takes the Square, Coach Said Not To, Goblin Cock, Deathray Davies, the Diamond Smugglers, the Fire Marshals of Bethlehem, You Say Party! We Say Die!, Lesbians on Ecstasy
I've got pull ... not! My SXSW press badge got me to the front of a long line leading into the coveted Arctic Monkeys show. Sweet! But I got a quick lesson in humility when the same pass couldn't get me into a lousy Stolen Transmission party next door (with no line).
Mr. Cab Driver. Cross-marketing is at insane levels—anyone watching The Apprentice will tell you that—but the street teamers who set up Austin taxi cab companies with customized Yeah Yeah Yeahs receipt pads to plug their new record Show Your Bones (and keep attendee reimbursements straight) were brilliant.
Puff, Puff, Pass. A DKNY CAP/CSE party with Mixmaster Mike and Secret Machines had another co-sponsor: Kamel tobacco products. A room inside the venue was expressly used for smoking and the fumes leaked out and messed my clothes. Austin passed a no-smoking ordinance in clubs last year, which was a great move, but this private party was able to skirt the rule. I left after Mike's set and still smelled like an ashtray.
I wasn't drunk! I lost my digital camera on the last night at Central Presbyterian Church for a show with Ramblin' Jack Elliot, Marty Stuart, Billy Bragg and others. Luckily I did a data dump prior but all my Saturday night shots (including front row pics of Nico Vega) are in the hands of somebody in Austin.
Most Astute Observation. "The next day we woke up, grabbed some tacos with Walker and his girl, then rolled over to the Fader party to start filling up on Red Stripe and hear some rap in between sets of a bunch of bands that I will never give a fuck about. It was at the Fader party that I discovered that some dudes look like so much of a bitch that they have to be from New York. This was a theme that would carry on throughout the SXSW weekend." —Sergdun, from Beerandrap.com
Sixty-Eight Duhs. At SXSW, you run into all kinds of cool people on the street. I saw Owen Wilson walking off breakfast, Jello Biafra at the Sistas in the Pit show, David Cross at an URB party, Jimmy Jam at a BMI breakfast, Seymour Stein on the street, Thurston Moore at an Emo's. Then, on Congress Avenue, I spotted Carlos Cavazo of Quiet Riot. He had a denim jacket, a tumbleweed of mussy highlights and two chicks with him. Makes sense, but when I thought about it, what would he be doing at SXSW? He passed by and I realized it wasn't Carlos Cavazo; it was Mike Peters of the Alarm (who played a gig that Thursday).
Send a letter to the editor about this story.