04.01.09
home | metro silicon valley index | the arts | books & literature | review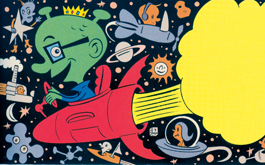 BLAST OFF: A new comics collection zooms off into uncharted territory.
It's a Scrawl World
Ivan Brunetti's new anthology of comics and graphic fiction is a wide-ranging stroll through risky territory
By Richard von Busack
WHAT EDITOR and cartoonist Ivan Brunetti has done: he has presided over a collection that does for anti-commercial comics what the Oxford Anthology of English Verse does for poetry.
What Brunetti was trying to do: something far more modest, apparently. The 86 artists gathered in An Anthology of Graphic Fiction, Cartoons and True Stories, Vol. 2 merely "share the same cultural broth," Brunetti writes. He adds, "Cartoonist are, at heart, doodlers," and that's Brunetti's way of dismissing even his own surpassingly morbid and crazed autobiographical cartoons.
It's nice to hear an academic understating a case for pop culture, but I'm flabbergasted by the range of work in this collection. The selections are kaleidoscopically varied, almost universally risky and created to satisfy a number of impulses.
Here are street-level scrawlers begging to be remembered, such as Oakland's Eugene Teal (honored in Karl Wills' animated short Teach Me), and the still missing-in-action Elinore Norflus, whose work for R. Crumb's Weirdo remains some of the most disturbing outsider art ever printed. Also here, though from a different decade, is Fletcher Hanks, a genius who literally froze to death on a park bench.
Chester Gould's Dick Tracy is admired and taken apart by Art Spiegelman, the collage artist Jess, Harvey Kurtzman and Michael Kupperman. Gilberto Hernandez's Drink, Fucker! isn't directly about that iconic figure that Nabokov called "Jutjaw the Detective," yet Hernandez is the only one who really understands the Zen of Gould's bizarre figures: many of his characters are inked with the vicious, pen-snapping brutality of Gould's harsh black lines.
These supposed doodlers range far out in time. From 1942, we get two pages of Bill Holman's batshit-crazy Smokey Stover; that comic's appearance in the Sunday Los Angeles Times was as essential a guide to liberation from the mind-forged manacles of the Southland as were Alfred E. Neuman and Dr. Demento.
Sixty years later, Tim Hensley takes the fuggly 1950s panel cartoon, empties it and crawls into it like a hermit crab, to emit S.J. Perelman–worthy scorn. Noting the way bankers and smooth jazz go together like hookworms and pellagra, Hensley has an effete character at a swank restaurant drawling, "When I first heard Eco-Byzantium by Zanzibar Taupe, it was like floating an insolvent surety bond into fiduciary defeasance."
Doodlers? Well, there's nothing doodly about the editing here, about putting Joe Matt's sleazy sexual adventures flush against Jeffrey Brown's own tenderly awkward story of losing his virginity. There's more than mere propinquity in having Lynda Barry, Jessica Abel and Diane Noomin rubbing shoulders.
Chris Ware's stunning miniaturized tales are juxtaposed with Adrian Tomine's and Daniel Clowes' own slaved-over graphics. Harvey Pekar's account of bottoming out as a record-collecting junkie sits pages away from R. Crumb's That's Life! The latter is a particularly memorable Crumb—his best work ever?—all about a pair of concentric circles. One is the short, harsh life of an unknown Southern blues musician; the larger one is of present-day blues aficionados gathering to listen to a worn 78.
John Porcellino's memoir of his family's dog is as charming and as effectively sad as Marley & Me and much more spare. 
David Heatley's portrait of his loving and slightly eccentric parents is far more than a "parents say the darnedest things" story—Heatley notes the way his parents cling, and the way he has to gently hold them at arm's length. Jim Woodring's elaborate dream sequences have the artist, in pajamas and lumbering like Karloff, wandering through ever more disturbing scenarios. Kevin Huizenga's The Curse, about the heinousness of that exotic pest, the starling, is as handsome as Hergé's Tintin and as informative as an hour of PBS. 
Here is all the vigorousness of a new art form, not at all pruned to that shape that marketing departments call "a generation." Rather than defining a time, this collection will defy it.
 AN ANTHOLOGY OF GRAPHIC FICTION, CARTOONS & TRUE STORIES, VOL. 2, edited by Ivan Brunetti; Yale University Press; 400 pages; $28 hardback.
Send a letter to the editor about this story.