04.01.09
home | metro silicon valley index | music & nightlife | band review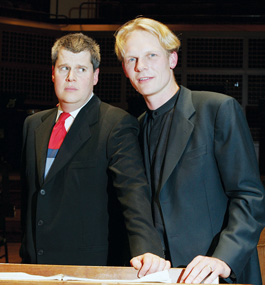 Courtesy San Francisco Symphony
SPOOKY SOUNDS: Daniel Handler (left) and composer Nathaniel Stookey bring 'The Composer Is Dead' to Flint Center this weekend.
Classical Moves
By Michael S. Gant
ONE OF THE BIGGEST names in children's lit, Lemony Snicket (a.k.a. Daniel Handler), has a new musical project with comic-sinister undertones called The Composer Is Dead. He has released the tale as an illustrated book, and the San Francisco Symphony has commissioned a concert version from composer Nathaniel Stookey. For a family performance, the symphony will call on Snicket to narrative the tale while Edwin Outwater conducts. The aim is to create a new word-and-music classic along the lines of Peter and the Wolf. Saturday (April 4) at 3pm; Flint Center, 21250 Stevens Creek Blvd., Cupertino; $18.50–$37; 415.864.6000.
The penultimate Sunset Concerts at St. Luke's performance features the Triple Helix Piano Trio of Boston. Cellist Rhonda Rider, pianist Lois Shapiro and violinist Bayla Keyes will perform Beethoven's trio in E-flat Major, Mendelssohn's Trio no. 2 in D Minor and Zemlinsky's Trio in D Minor. The group, which was formed in 1995, has earned kudos as artists-in-residence at Wellesley College. Saturday (April 4) at 8pm; St. Luke's Episcopal Church, 20 University Ave., Los Gatos; $10–$25; 408.354.4560.
Thomas Shoebotham takes on Mahler's Symphony no. 1 with the Palo Alto Philharmonic this Saturday. The other half of the evening pays tribute to Ernest Bloch on the 50th anniversary of his passing. His Concerto Grosso no. 1 for Strings and Piano Obbligato will be conducted by Lee Actor. Saturday (April 4), at 7:30pm; Cubberley, 4000 Middlefield Road, Palo Alto; $15/$17; www.paphil.org.
For its Montalvo Arts Center Salon Series show, the Cypress String Quartet will present the local debut of a new commission for the group by young composer Kevin Puts. Sunday (April 5) at 3pm; Montalvo Arts Center Historic Villa, 15400 Montalvo Road, Saratoga; $32/$40; 408.961.5858.
In honor of its 20th anniversary, the St. Lawrence String Quartet premieres a new work of its own: String Quartet by John Adams (Dr. Atomic). This final performance of the season for the quartet also includes some Haydn and DvorŠk. Sunday (April 5) at Dinkelspiel Auditorium, Stanford; $23–$40; 650.725.ARTS.
The finalists in the Young Artist Soloist Competition are showcased with the San Jose Wind Symphony. The selections includes pieces by Strauss, Holst and Saint-SaŽns. Sunday (April 5) at 3pm; SJSU Music Building Theater; $5–$20; 408.927.SJWS. El Camino Youth Symphony's Sinfonietta has put together a "Concerto Festival." The roster rangers from Bizet to tunes from Oklahoma!. The guest artists are Natalie Ng and John Suh on violin, Pavitra Rengarajan on flute and Daniel Kim on piano. Saturday (April 4) at 7:30pm; Spangenberg Theater, 780 Arastradero Road, Palo Alto; $6/$12; 650.213.7111.
On the early-music front, Magnificat provides some romantic advice in the form of Scarlatti's witty allegory about Venus and Reason debating the behavior of naughty Cupid: Venere, Amore, e Ragione. Friday (April 3) at 8pm; First Lutheran Church, 600 Homer Ave., Palo Alto; $10–$30; www.magnificatbaroque.org.
Send a letter to the editor about this story.