04.01.09
home | metro silicon valley index | silicon valley restaurants | review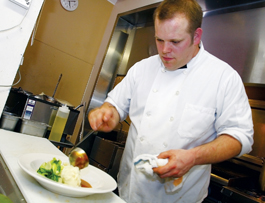 Photograph by Felipe Buitrago
CALIFORNIA COMFORT: Chef Ross Hanson's generously sized dishes are ingredient driven.
Personal Charms
Los Gatos' Restaurant James Randall holds the hard times at bay with big, robust flavors
By Stett Holbrook
WHEN I FIRST visited Restaurant James Randall in Los Gatos, three years ago, it was just a few months old. The personal charms of the little restaurant won me over, even if some of the food was uneven. Two years later, that's still the case.
The business-swallowing recession has been tough on little restaurants, so I was pleased to see that James Randall seems to be holding its own. On both my visits, the restaurant attracted a decent midweek crowd. In fact, judging by the crowded dining rooms, a lot of the independently owned restaurants along North Santa Cruz Avenue seem to be doing well. At least in downtown Los Gatos, hard times appear to be in short supply.
While service at James Randall is far less green than it was when I first visited, chef Ross Hanson's cooking has undergone few changes, and that's both a strength and a weakness. Hanson, a Saratoga High School grad, runs the restaurant with his mother, Brenda Hammond.
Mother and son had worked together in a catering business a few years back, but they really wanted their own restaurant. When Hammond's brother passed away about 12 years ago, he left her some money, telling her to do something with it that she really wanted to do. So she and Hanson opened the restaurant and named it after him. 
Hanson's cooking generally takes its cues from the seasons and favors a simple, ingredient-driven approach that places it squarely in the California school of cooking. He favors big, robust flavors and large serving sizes to create a kind of California comfort food.
Lunch is simple and straightforward, although I guess the dreamy parsley-and-truffle-scented fries ($6) are a bit over the top. The Italian sub sandwich ($9) piles on the cold cuts, and it's pretty good, but nothing better than you'd get at a run-of-the-mill deli. Better is the grilled-chicken Gruyère sandwich ($9.50), a luxurious pressed sandwich gilded with pickled onions, wild arugula and caper aioli. Both plates came with a freshly baked chocolate-chip cookie on the side, a homey touch the restaurant has kept around since the early days.
The dinner menu illustrates the restaurant's strengths and weaknesses. When Hanson is hot, he's hot. But sometimes he's not. From the list of appetizers, the chorizo and clams ($12) was the hands-down favorite. Two handfuls of tiny sweet clams shared a bowl with browned bits of spicy chorizo sausage in a rich, savory broth that was made to go with the green-garlic-topped toast.
The grilled asparagus on top of creamy celery-root purée ($8) was a delicious blend of winter and spring ingredients, but the addition of lemon confit added a cloying note that detracted from the clean vegetal flavors of the other ingredients. The romaine hearts salad with cherry tomatoes and hearts of palm ($7) was crisp and fresh but otherwise an unremarkable bore.
Duck breast can be a tricky ingredient to get right; it is easily rendered inedible and tough if not handled right. But the pan-roasted duck special ($31) on my visit suffered from the opposite problem: it was undercooked and blubbery, such that it was hard to distinguish the meat from the fatty skin.
Far better were the five-spice braised beef short ribs ($24). The tangy, spiced crust of the meat yielded to an interior so tender and yielding I could have eaten it with a spoon. Almost as tender and equally flavorful was the roasted Eden Farms Berkshire pork chop, a fat slab of juicy pork goodness accented with maple-syrup-flavored pan juices our waiter aptly called "bacon on a stick." 
And yet as hearty and good as the short ribs and pork chop were, the ingredients and preparation don't show much evolution in Hanson's cooking. Pork chops and short ribs are so 2006. Somehow the belt-loosening, indulgent ingredients strike me as out of place in this recession-born era of restraint and retrenching.
While the small wine list has a few good selections, some of the wine markups turned me off. I paid $12 for a bottle of the 2001 Silver Mountain Vineyards "Alloy" at my local grocery store, but the restaurants sells the 2002 for $52. That's more than a 400 percent increase over retail. Can the '02 be that much better? 
Desserts were good. At first, I balked at the small size of the chocolate torte ($9), but it more than made up for its size in flavor and density. The dessert had a texture of frozen molasses and a flavor of deep chocolate extravagance. The honey cheesecake ($8) was a satiny slice of creamy goodness.
I still have a soft spot for James Randall, but after two years of business I'd like to see Hanson stretch a bit more and take the restaurant to the next level.
---
Restaurant James Randall
Address: 303 N. Santa Cruz Ave., Los Gatos.
Phone: 408.395.4441.
Hours: Hours: Lunch 11:30am–2pm Tue-Fri and dinner 5:30–10pm Tue-Sat.
Cuisine: California.
Price Range: $21–$32.
Web: restaurantjamesrandall.com.
Send a letter to the editor about this story.