04.01.09
home | metro silicon valley index | movies | current reviews | film review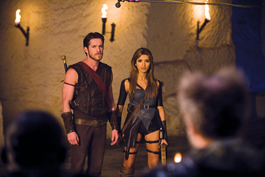 Photograph by Egon Endrényi
WARRIOR WARS: Sean Maguire and India de Beaufort send up the medieval fantasy genre in a new TV show.
Dungeons & Drag
'Kröd Mändoon' on Comedy Central picks up where Monty Python left off
By Richard von Busack
SLIGHTLY LESS OLD than the legends of ancient valor are the comedic archetypes satirizing them: the bubacious warrior princess, the hulking oaf, the fraudulent wizard, the flamboyantly gay sidekick and—leading them all—the brave but half-bright rebel whose very name bears the umlauts of destiny themselves: in this case, Kröd Mändoon. On April 9, Comedy Central airs director Alex Hardcastle's hour-long pilot episode for Kröd Mändoon and the Flaming Sword of Fire. In brief, it has the goods. One thinks back happily on the book Bored of the Rings and Get Smart, back when that TV show was on its game. This high-production-value Middle-earth farrago, filmed in Hungarian fields and forests, includes sword fights and serious stuntwork. Sean Maguire has probably been cast to make the audience think of Ben Stiller's would-be macho ditherers; his Kröd is a lowborn, good-hearted nebbish with fine triceps, always outwitting the Empire by accident. (It should be mentioned that Maguire's principal credit is Meet the Spartans, but that movie is clearly not his fault.)
The pilot sets up Kröd's destiny, as he and his rebels free the captive Gen. Arcadius (Roger Allam) from the empire's dungeons. This also means freeing Bruce (Marques Ray), who had been the only consolation to the general during his ordeal as a prisoner ("Two weeks ... and it's a coed dungeon," Kröd fusses). Already alerted, the insidious bald Chancellor Dongalor (a hilarious Matt Lucas of Little Britain) prepares a trap and conducts interviews (and second interviews) for assassins for hire. Dongalor and his henchman Barnabas (Alex McQueen) roll their r's fragrantly as they scheme against the upstart rebels. Meanwhile, they admire their doomsday weapon: the Eye of Gulga Grymna, still closed and drowsing as monks try to get it online.
"Noel Coward–like" is not the phrase for Kröd Mändoon: it's pitched for people who can remember Mad and Python routines word for word. However, it seasons the story with anachronism jokes and winks to the audience instead of laying out a platter of them. A newcomer, Remie Purtill-Clarke, makes a large impression as Dongalor's ever-shocked concubine. As the pagan warrioress Aneka, India de Beaufort might be smoldering enough to keep the primary audience of wised-up 12-to-24-year-old males watching just for her alone. In action scenes, she shows a brisk chirpiness, and she suffers fools happily, because there are plenty of them around. De Beaufort is the most appealing crossbow wielder since Sarah Michelle Geller. The gaylord jokes about Bruce are wooly and thick, but the general's pet nickname for him, "insatiable meercat," sums up the show's lack of malice. In addition to satirizing reams and reams of barbarian fiction, Kröd Mändoon zeroes in on Anxiety no. 1 for adolescents: the fear of being sexually unsophisticated. Mandoon's own wide dumb spot is being a backward dismayed adolescent in the wide-open Meconian Empire. His love for the straying Aneka (who says, "Sex is just one weapon in my arsenal!") should keep this series lively. Kröd Mändoon's jealousy recalls the first parody of swords and sorcery, Ariosto's 1516 Orlando Furioso, with its pagan princess Angelica, and its all-over-the-map action. It's a formula that works happily today.

KRÖD MÄNDOON airs Thursdays at 10pm on Comedy Central beginning April 9.
Click Here to Talk About Movies at Metro's New Blog
Send a letter to the editor about this story.