04.01.09
home | metro silicon valley index | music & nightlife | band review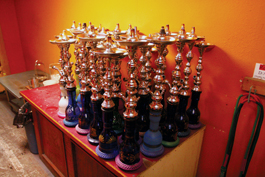 Photograph by Felipe Buitrago
PIPELINE: The hookahs are ready for some convivial smoke sharing at Hookah Nites in San Jose.
Hello, Hookah
By Colleen Watson
WE STEPPED into the dimly lit shop and looked around. Hookah Nites Cafe in San Jose, looked like a cross between a trendy cafe and a faux harem. There were about 10 purple velvet couches placed in cozy little groups. The faint aroma of tobacco hung in the air. Dance music was being pumped in through an invisible sound system, but not loud enough that you couldn't hear your neighbor. The menu featured a plethora of fruit-flavored tobaccos and other exotic mixes. After nixing "blue mist" as too weird, we decided on mango. Our waiter brought out a blue-glass-bottom hookah that stood about 2 1/2 feet high, with two coals burning on the top.
I reached for the mouthpiece and took a drag from the hookah. I had seen one of the neighboring patrons blow out smoke as if he were Puff the Magic Dragon, and I wanted to try, but only a tiny cloud emerged. I couldn't taste the mango, but I could smell the sweetness as it exited my lungs. Toward the end, my throat got a little scratchy, and we decided to call it a night. All told, we spent about an hour puffing away, talking and trying to remember the Caterpillar's lines from Alice in Wonderland. The atmosphere was very relaxing and conducive to meditative reveries, which may explain the increasing popularity of hookah lounges even in the face of anti-smoking campaigns.
Hookah Hot Spots
Shisha Hookah Lounge 84 N. Market St., San Jose; 408.910.8529
Hookah Nites Cafe 371 S. First St., San Jose; 408.286.0800
Smoke This Hookah Lounge 2271 The Alameda, Santa Clara; 408.247.6653
Giza Hookah Lounge 18 N. First St., San Jose; 408.998.4622
Have a favorite hookah place we missed? Drop us a line at [email protected]
Send a letter to the editor about this story.